Dean Robert Farber '35 Given Added Responsibilities by President Kerstetter
May 25, 1973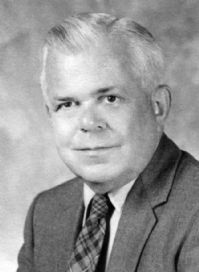 May 25, 1973, Greencastle, Ind. - DePauw University President William E. Kerstetter announced today that Dean Robert H. Farber, beginning immediately, will assume added responsibility for all on-campus administration, working under the direction of the president. "Dean Farber will act for the president of the University during the latter's absences from campus, and will for the present, have inclusive responsibility for all campus administration," Kerstetter declared.
Long responsible for academic affairs at the University, Farber -- a 1935 graduate of the institution -- has spent most of his professional life as a member of the DePauw administration. He was secretary of admissions and assistant director of the Rector Scholarship Foundation before leaving the University to join the U.S. Army in 1941. During World War II, Farber rose from the rank of private to major, and at the end of his military career in 1946 he was classification officer with the Third Army. He served in the European Theater and earned the Bronze Star. He became assistant dean of students and director of placement in 1947, and in 1952 was named academic dean. In 1962-63 he also served as DePauw's chief administrative officer following the death of President Russell Humbert.
The president of the National Summer Conference of Academic Deans, Bob Farber has also been elected chairman of
the North Central Association of Academic Deans, the Indiana Conference of Higher Education Academic Deans and the Indiana Inter-Institutional Cooperation Commission.
In 1963, Dr. Farber was awarded the DePauw Leather Medal for Distinguished Service to the University.
"For more than three decades, Dean Farber has made great contributions to the works of DePauw and has countless friends among former students," says Dr. Kerstetter.
Learn more about Bob Farber in this previous story.
Back