Prof. Lennie Foy Appears in Smithsonian Magazine
May 9, 2008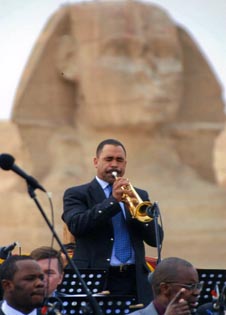 May 9, 2008, Greencastle, Ind. - A photo of Lennie Foy, professor of music at DePauw University, appears in the May 2008 issue of Smithsonian magazine. "The boisterous sound of American jazz echoed among the ancient pyramids at Giza this past February," notes the accompanying caption. "With the Sphinx at their shoulders, members of the Smithsonian Jazz Masterworks Orchestra -- in Egypt as part of a cultural exchange program -- played a Duke Ellington standard, Take the 'A' Train. It's a fitting tune for traveling musicians."
The image, which also appears at the top of this article, is published on page 38 of the magazine, which identifies Foy by name.
Foy and his DePauw colleague, Professor Randy Salman, are both members of the SJMO and made the trip to Egypt. You'll find more details in this previous article.
Source: Smithsonian
Back