'The Man Behind The Wall Street Journal' -- Barney Kilgore '29 -- is Remembered
November 10, 2008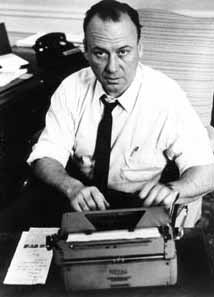 November 10, 2008, Greencastle, Ind. - Bernard "Barney" Kilgore, former editor of the Wall Street Journal and 1929 graduate of DePauw University, "was not only the life force behind the growth of the newspaper you are reading but also the inventor of much of what constitutes modern newspaper journalism." notes today's edition of the Journal. "Yesterday would have been his one hundredth birthday, and his story deserves our attention," writes Richard J. Tofel on the newspaper's Opinion page.
"A native of Indiana, Barney Kilgore was a columnist in the Journal at the age of 23. He broke new ground in forms and styles of newspaper writing, humanizing articles, making them more accessible by beginning them with anecdotes rather than dry facts, employing humor to tell stories. He understood instinctively that readers seek -- even more than an account of what happened yesterday -- some insight into what will happen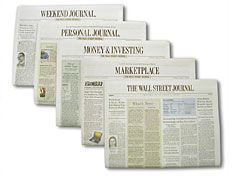 tomorrow."
Tofel, author of the upcoming book Restless Genius: Barney Kilgore, The Wall Street Journal, and the Invention of Modern Journalism, offers some highlights of Kilgore's career, noting that he created the newspaper's "What's News" summary -- which today "remains widely admired -- and frequently imitated" -- at age 25. "As publisher (he assumed the title of general manager at the age of 34), he and his associates finally achieved something of which others had only dreamed: building a truly national newspaper, expanding the financial paper they had inherited through regional editions based in Dallas and Chicago, and then spanning the continent with proprietary printing technology and the distribution network it made possible. Along the way, Kilgore and company rode the crest of the postwar economic boom to establish -- and soon dominate -- a market for national newspaper advertising to support their national editorial offering, leading ultimately to perhaps the greatest economic success in newspaper history. By the time he died prematurely in 1967, the Journal's circulation had
grown from 32,000 when he became editor to just under one million, on its way to more than two million today."
Read the complete text, "The Man Behind The Wall Street Journal," at the paper's Web site.
In early 2000, Bernard Kilgore -- who served on DePauw's Board of Trustees and was the longtime president of Dow Jones & Company -- was selected as the "Business Journalist of the Century."
Two other DePauw alumni were also included on the list: Kenneth C. Hogate '18, former managing editor of the Wall Street Journal and later president and chairman of the board of Dow Jones & Co.; and James B. Stewart '73, Pulitzer Prize-winning former Page One editor of the Wall Street Journal and author of bestselling books, including Den of Thieves, DisneyWar and Blood Sport. Learn more in this story.
Back