Winners of Largest-Ever Concerto Competition to Perform at Sunday Concert
March 31, 2009
March 31, 2009, Greencastle, Ind. — The winners of the 2009 DePauw University School of Music Concerto Competition will perform with the DePauw University Orchestra this Sunday, April 5. The 3 p.m. performance, under the direction of orchestra director Orcenith Smith, will take place in Kresge Auditorium of the Judson and Joyce Green Center for the Performing Arts. The concert is free and open to the public.
The DePauw Concerto Competition takes place annually, offering music students a chance to compete for the opportunity to perform in a concert with a full orchestra. Chosen from 54 contestants in the event's February competition -- the most ever in the history of the competition -- the eight winners were selected after passing through preliminary and final rounds. Faculty members from the DePauw School of Music participated as judges in the competition's first round, while adjudicators from outside of DePauw were brought in to judge the final round.

The 2009 winners include Sarah Chamberlain and Yuting Liu, flutists (students of Anne Reynolds); Jeremy Eberhard, Esther Shim, and Allison Taylor, violinists (students of Dan Rizner); Ann Marie Hostetter, pianist (student of May Phang); Steven Maijala, oboist (student of Leonid Sirotkin); and Carl Frank, baritone (student of Caroline B. Smith and Brian Horne).
The performance will encompass a variety of music including Donizetti's "Concertino for flute," Korngold's "Concerto in D Major" for violin, Tchaikowsky's "Piano Concerto No. 2," Hüe's "Fantasie" for flute, Vaughan Williams' "Oboe Concerto," Saint-Saëns' "Violin Concerto No. 3," Lalo's "Symphonie Espagnole" for violin, and the aria "Avant de quitter" from Gounod's opera Faust.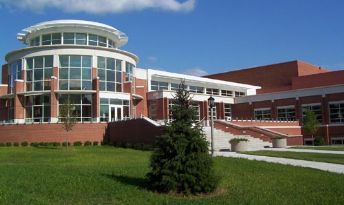 "From Boston to Beijing and everywhere in between, this year's eight outstanding young concerto winners have brought their talent, hard work and teachers' dedicated guidance to our largest-ever Concerto Competition," explains Orcenith Smith. "The finals judges were very, very complimentary of the high caliber of music-making that we have in DePauw students."
For more information, visit the DePauw School of Music online.
Back