485 Receive DePauw Degrees at 171st Annual Commencement
May 23, 2010
Also: J. Nichols '89 Urges DePauw's Class of 2010 to "Love and Fight"; Photo Galleries 1 & 2; Order the 2010 Commencement DVD
May 23, 2010, Greencastle, Ind. —

[Download Video: "Nikki Craker '10" - 541kb] "As a class, we have made our mark on DePauw history and we have contributed great things to this place," senior Nicole C. "Nikki" Craker stated at the University's 171st commencement this afternoon. "Some of our accomplishments are large and public, others are small and personal," added Craker, who hails from Willoughby, Ohio.
Craker is this year's recipient of the Walker Cup, which recognizes the senior student judged to have contributed the most to DePauw during his or her four-year college career. The winner of the Walker Cup traditionally speaks on behalf of the graduating class during the commencement program.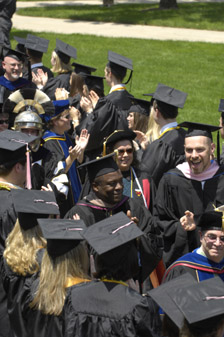 "Our four years at DePauw have been a time of transition and change which has given us a unique opportunity to make a lasting impact on our school," she noted. Among other things, "We have witnessed the construction of the Prindle Institute for Ethics and the remodeling of the Green Center for Performing Arts. We have gotten to know and have gotten to complain to two University presidents. We helped hire the campus planning firm that will continue to reshape this campus for years to come."
Under a hot sun, addressing the 485 graduates, Craker continued, "While it is clear that our class is made up of very talented individuals, we have all contributed to this experience. Many of us cheered our team on to two Monon victories. Some of us have fallen in love. A few of us came to DePauw wanting to be doctors and are leaving poets; others successfully organized weekend toga parties. We have all immersed ourselves in our own pursuits."
A biology major and Honor Scholar, Craker was DePauw's student body president
this academic year. She has served as a mentor to first-year students, and as a member of the Student Life and Academic Atmosphere Committee and on the Campus Planning Committee.

[Download Video: "Saying Goodbye, For Now" - 1440kb] "Today and tomorrow, as we finish packing all of the unnecessary items that we swore we would need in college and head back to the different states and countries from which we came, we must remember that while we are leaving Greencastle, DePauw will stay with us," Craker maintained. "We have done a lot for DePauw, but DePauw has done a lot for us. Here we have learned not only skills but how to think, how to examine, and how to question. We have been given the tools necessary not only to succeed in our own pursuits but to inspire others to do so as well." She called the University "our home -- a home that will continue to support us as new alumni."
Access her complete address here:

[Download Audio: "Full Remarks by Nikki Craker '10" - 5422kb].
BONUS CLIP:

[Download Video: "President Brian Casey Welcomes Audience" - 1412kb]
Scientist and conservationist Wallace J. Nichols III, a 1989 graduate of DePauw, delivered the principal address to the University's Class of 2010, "You Are Lovers and Fighters." A summary of his speech, including video and audio clips, can be found in this story.
Dr. Nichols and Brian Lamb, CEO of C-SPAN, both received honorary doctoral degrees.
The University also paid tribute to Marthe A. Chandler, professor of philosophy, who is retiring at the end of the current academic year. Dr. Chandler joined the DePauw faculty in 1981.
A DVD of DePauw's 2010 commencement is available. The disc, which
is professionally replicated, will include footage of each graduate receiving their DePauw diploma as well as a range of bonus materials -- including clips of Ubben Lecturers such as Tony Blair, Karl Rove and Howard Dean, and F.W. de Klerk; "Monon Memories" of the last four battles for the Monon Bell; footage of the women's basketball team capturing the national championship; and vintage film from the DePauw Archives. The cost is $19.95 for the first disc; additional DVDs sent to the same address will be $8 each (7% sales tax will be added to Indiana orders). An online order form is available here; you can learn more about the disc in this article.
For more information on DePauw's commencement, click here.
Back