DePauw Hosts Football Playoff Game vs. Trine at Noon Saturday
November 15, 2010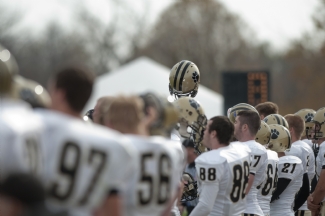 November 15, 2010, Greencastle, Ind. — "As Trine did by winning the Michigan Intercollegiate Athletic Association title for the third straight year, DePauw earned automatic qualification into the NCAA Division III field by winning the Southern Collegiate Athletic Conference title," notes the Fort Wayne Journal Gazette on Saturday's first-round NCAA Division III football playoff game between DePauw (9-1) and Trine (10-0) universities. As announced Sunday afternoon, the two teams will play at Blackstock Stadium at noon Saturday, November 20.
"To get to the playoffs for the second straight year, the Tigers reeled off nine straight wins before Wabash shredded them 47-0 Saturday in the annual Monon Bell game," Steve Warden writes. "The game sets up as a quarterback duel between Trine's Eric Watt and DePauw's Michael Engle, who's thrown for 2,800 yards and 27 touchdowns."
"There are only 32 teams left, so it doesn't much matter who you play, they're going to be good," Trine coach Matt Land tells the newspaper.
Read more here. The matchup is also reported in today's Indianapolis Star.
Tickets are $8 for adults and $4 for students, seniors and children ages 2 and older. The gates open at 10:30 a.m. and kickoff is set for noon. DePauw students will be admitted at no charge by showing their DePauw IDs. The DePauw athletic department is covering the cost of the student admissions.
Get the latest details at the official online home of the Tiger football program.
Back