James B. Stewart '73 to Write Column for the New York Times
May 10, 2011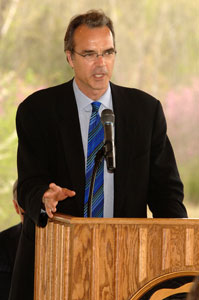 May 10, 2011, Greencastle, Ind. — "James B. Stewart, a distinguished, Pulitzer Prize-winning journalist and best-selling author, will write a business column for the New York Times' 'Business Day' section," notes an announcement this afternoon. Stewart is a 1973 graduate of DePauw University.
"James is an exceptional journalist with a deep understanding of business and finance," says Lawrence Ingrassia, the newspaper's business editor. "Times readers will benefit from his insights into a broad variety of issues. With the move of Times business columnist Joe Nocera to become an op-ed columnist at the Times, we are pleased to have someone equally respected and knowledgeable to take his place in Business Day."
Stewart has authored nine books, including Tangled Webs: How False Statements Are Undermining America -- From Martha Stewart to Bernie Madoff, which was released last month and is currently #20 on the Times' best-seller list. He won the Pulitzer Prize in 1988 for his coverage of the stock market crash of 1987 in the Wall Street Journal, where he worked as a reporter and served as a Page One editor. "His weekly column, 'Common Sense,' has appeared in the Journal, online and in SmartMoney magazine, which he helped launch in 1993,"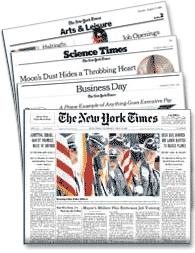 adds the news release.
The journalist received the George Polk Award in 1987 and Gerald Loeb awards in 1987, 1988 and 2006. The editor of The DePauw while an undergraduate, Stewart earned a juris doctor from Harvard Law School. He serves as the Bloomberg professor of business journalism at the Columbia Journalism School and is a member of DePauw's Board of Trustees and former chair of the group.
Read more at BusinessWire.
The San Francisco Opera has commissioned Heart of a Soldier, a new opera based on Stewart's critically acclaimed nonfiction book of the same name, which will premiere in September. Details can be found in this recent story.
Back