DisneyWar Author James B. Stewart '73 Wins Loeb Award
June 30, 2006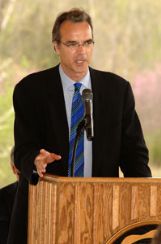 June 30, 2006, Greencastle, Ind. - James B. Stewart, a Pulitzer Prize-winning journalist and bestselling author and 1973 graduate of DePauw University, is the recipient of a Loeb award, the highest honor in business journalism. Stewart's book, DisneyWar: The Battle for the Magic Kingdom, published by Simon & Schuster, was honored as "Best Business Book."
"The Loeb awards, which were announced Monday, have been presented for 33 years by Anderson School of Management at the University of California, Los Angeles," notes Editor & Publisher, which lists Stewart among the winners. "They are named for Gerald Loeb, a financier and founding partner of E.F. Hutton." Other recipients include Myron Kandel, the founding financial editor of CNN, who won a Lifetime Achievement Award, and the Atlanta Journal-Constitution.
The official announcement of the awards writes of DisneyWar: "This is a stirring tale of corporate, executive and personal dysfunction, and it has everything a good business yarn should: good reporting, great writing and access to the key players. It's a terrific story very well told."
Read the E&P article by clicking here and the detailed announcement
of award winners here.
The editor-at-large of SmartMoney magazine, James Stewart served as editor of The DePauw while a student in Greencastle, and has been called by the San Francisco Examiner "the journalist every journalist would like to be." His other books include: Den of Thieves, Blind Eye, Heart of a Soldier: A Story of Love, Heroism, and September 11th and Blood Sport. Stewart received a Pulitzer Prize for Wall Street Journal articles on the 1987 stock market crash and the insider-trading scandal. He received DePauw's Young Alumni Award in 1988, an Alumni Citation in 1988, and an honorary Doctor of Journalism degree in 1989. Stewart currently serves his alma mater as chair of DePauw's Board of Trustees.
Clips of a 2005 appearance by James Stewart on MSNBC's Hardball can be accessed in this previous story.
Back