DePauw Band Welcomes Guest Narrator for Family Weekend Concert Sunday
September 28, 2011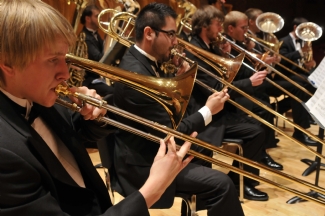 September 28, 2011, Greencastle, Ind. — The DePauw University Band will present a program that will feature a variety of music for wind ensemble and symphonic band, including two student chamber wind groups, this Sunday, October 2. The concert, which is part of DePauw's Family Weekend events, will begin at 3 p.m. in Kresge Auditorium of the Green Center for the Performing Arts. The concert is free and open to the public.
Directed by Craig Paré, professor of music, the concert will include repertoire such as Ride by Samuel R. Hazo, Overture for Woodwinds by Philip Sparke, and Black Canyon of the Gunnison by Frank Erickson. In memory of those Americans who lost their lives in the attacks on September 11, 2001, the University Band will perform two pieces: A Hymn for the Lost and the Living by Eric Ewazen, and and arrangemen
t of "Blessed Are They" from Ein deutsches Requiem by Johannes Brahms.
"Eric Ewazen was teaching music theory at the Juilliard School in New York City that sunny Tuesday morning," explains Paré. "They were notified of the attacks on the World Trade Center, which was only a few miles south of where they were. Ewazen and his students gathered near a radio in the school's library and, like millions of other Americans, reacted with shock and disbelief. This work was his response to this catastrophe."
The concert will also feature Sergeant Major Richard Burkett as guest narrator. Born and raised in Apollo, Pennsylvania, at age 17 Burkett enlisted in the Navy during World War II and was assigned as a signalman on the destroyer U.S.S. Charles E. Brannon, DE-446, and saw action in the Pacific, including Iwo Jima, Okinawa, and Borneo. After being discharged from the Navy in 1946, Sgt. Maj. Burkett enlisted in the Army, training at Ft. Bragg, N.C.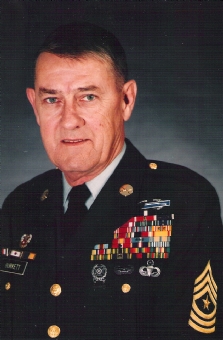 and Ft. Benning, Ga., as an artilleryman, infantryman, and airborne parachutist. In the spring of 1947 he was assigned to the 11th Airborne Division in Japan, specifically to the 457th Parachute Field Artillery Battalion as a radio operator. With his former Navy training in various signal codes, he was transferred to the headquarters of the division artillery as a radio code operator. His next duty was as an announcer with Armed Forces Radio in Sapporo, Japan. This service was cut short by his transfer to the 7th Division Signal Battalion, where he served during the Korean War in Inchon, Wonson, and the Chosin Reservoir. He also served as a training sergeant at the South Eastern Signal School at Ft. Gordon, Georgia, organizing the Army's first training television station.
Burkett's post-military career included work in the television industry as an announcer and film editor at stations in Pennsylvania and Ohio, and he enlisted in a unit of the U.S. Marine Corps Reserve. He joined WISH-TV in Indianapolis in 1954 and served as a film man and a children's show host during a 14-year tenure with the CBS affiliate. In the early 1970s he returned to full-time Army duty, when he was assigned as the 35th Divisions Operations Sergeant in the Plans, Training, and Operations section. He remained in this position until his retirement in 1986, at which time he took a position at the Military Department of Indiana at Stout Field as the manager of military schools. He worked for the state of Indiana for eleven years until retiring once again at age 70.
The concert will also include Desi by Michael Daugherty, the music for the ending credits to The Empire Strikes Back by John Williams, Barnum and Bailey's Favorite by Karl L. King, Introduction et Variations sur une Ronde Populaire by Gabriel Pierné, and Divertimento No. 3 by Wolfgang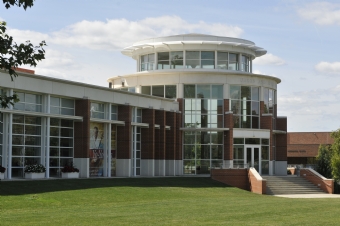 Amadeus Mozart.
Donations of non-perishable food items will be accepted at the entrance to the concert and will be distributed to the Putnam County Emergency Food Pantry. Requested food items include canned soups (chicken noodle, tomato, and vegetable), canned fruits, canned carrots, canned peas, and pork & beans. Monetary donations will also be accepted.
Founded in 1884, the DePauw University School of Music is the nation's sixth-oldest private institution for post-secondary music instruction and the longest-running in Indiana. Learn more here.
Back