IU Sports Announcer Don Fischer Recalls Key Assist from Art Kimball '55
March 28, 2013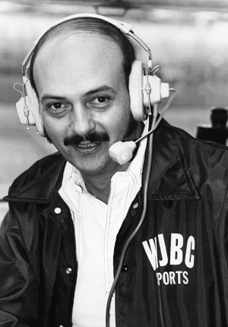 In 1968, after a disastrous experience calling play-by-play of a football game in Ottawa, Illinois, "(Don) Fischer was truly desperate. He tossed through the night, got up Saturday morning and cold-called Art Kimball, an accomplished high school sports play-by-play man at WLPO in nearby LaSalle-Peru," reports the Indianapolis Star. "Kimball invited him over after church the next day. He covered everything, background reading, rosters, charts, interviews, game preparation. Fischer took notes for five hours, nonstop." (Kimball is seen in photo at right)
Fischer, who has become a broadcast legend for calling Indiana University football and basketball games for 40 years, recalls the good deed of Kimball, a 1955 graduate of DePauw University. "The stuff he gave me, the information he gave me, I've used the rest of my life," Fischer says. "That's what I've been doing to do broadcasts for this last 45 years."
The Star's Phil Richards writes, "Fischer was in line for a job with WJBC in Bloomington, Ill., when he accepted the Indiana gig. Left empty-handed, the station manager asked Fischer for a recommendation. It didn't require a second's thought. Fischer recommended the best play-by-play man he knew. Art Kimball became the voice of the Illinois State Redbirds simultaneous with Fischer clearing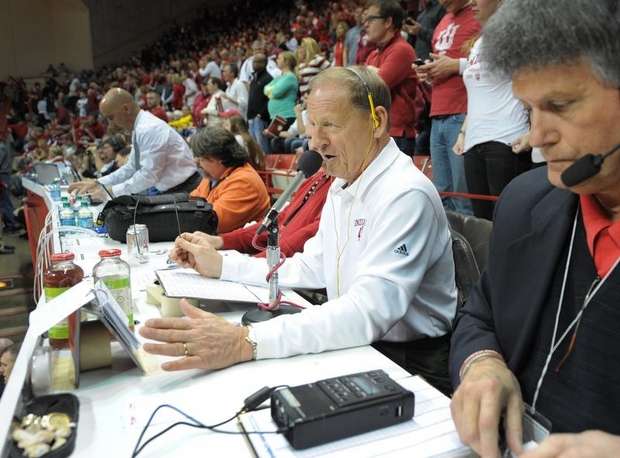 his throat for the first time with IU. It was payback, and their connection might have ended there but for the night in 2010 Fischer was inducted into the Indiana Broadcasters Pioneer Hall of Fame. Fischer was seated at a table with, among others, the second of his four sons, Patrick. Art Kimball, Pat told his dad, had died the week before. 'I have to get up and get an award, and he's the guy who mentored me,' Fischer recalled. 'I was blubbering all over. I could hardly talk.' " (at left: Fischer at work; courtesy: Matt Kryger/Indianapolis Star)
Access the feature -- "IU icon Don Fischer has called 40 years of games for Hoosiers" -- at IndyStar.com.

Learn more about Art Kimball, who got his start on DePauw's student radio station WGRE, in this previous story.
Kimball did play-by-play for the 1985 Monon Bell telecast. The opening of that broadcast is embedded below.
Back