Role of Prof. Mark Kannowski in Grading Advanced Placement Tests is Noted
July 10, 2014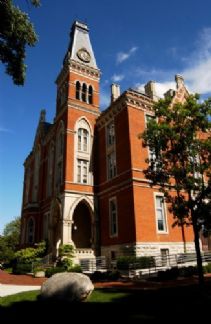 "It's sort of like summer camp -- just for highly educated adults," notes a Pacific Standard article on educators who go to Kansas City, Missouri, each June to grade Advanced Placement tests for the College Board. That group includes Mark Kannowski, professor of mathematics at DePauw University.
"Kannowski, an experienced grader, has been reading AP Exams on and off since 1991," reports Brittany Shoot. "The Advanced Placement pilot program launched shortly after World War II to help close the widening gap in academic achievement between high school and university. In the 1950s, offering college-level curricula to high school students seemed groundbreaking. But more than 60 years later, it's often considered an obvious option to improve secondary education, even though it still isn't available in every school or to every student."
Shoot writes, "From his perspective at the university level, Kannowski says that grading helps him understand the aptitude of rising freshmen. He also suggests that the AP program can fill the gap between secondary and higher education."

Dr. Kannowski says, "I think that, as the cost of college and university increases, [AP testing] is another important way for students to be educated."
Read the full story -- "Filling in the Blanks: The Thousands of Volunteers Who Grade Millions of AP Tests" -- by clicking here.
Back