Leslie Koehlinger '79 Joins Not-For-Profit's Board
August 11, 2014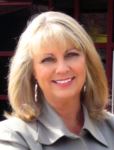 Leslie Koehlinger, a 1979 graduate of DePauw University, has been elected to the board of directors of Recovery Health Services, which provides senior housing services for aging adults.
"She has been an executive-level advisor and strategist for both nonprofit and for-profit entities for nearly 15 years,' notes the Fort Wayne News-Sentinel. "She earned a bachelor's degree with honors from DePauw University and M.B.A. from San Jose State University."
Koehlinger was a music education major at DePauw.
Back