Greencastle Paper Notes Athletics Hall of Fame Induction of Brett Hecko '92
October 13, 2015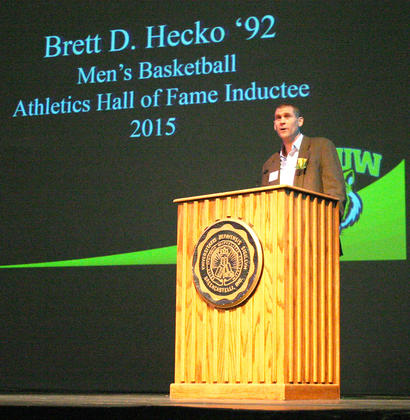 "I was very, very lucky to play with the guys I played with," Brett "Moose" Hecko said as he was inducted into the DePauw University Athletic Hall of Fame Saturday, reports the Banner-Graphic. "First of all, let me say this, my job was easy. I got to make layups, snatch a few rebounds and make uncontested 15-foot baseline jumpers. That's pretty easy. That's not the hard stuff."
Eric Bernsee's article notes that Hecko, a 1992 DePauw graduate, was a product of Greencastle High School, "where he led the Tiger Cubs to their first sectional basketball title in 19 years and just one win from the Final Four in 1988, and followed that with four years at DePauw, including an amazing run to the NCAA Division III Tournament championship game in 1990."
Bill Wagner, who has served as director of sports information at DePauw since 1986, spoke at Hecko's induction and recalled how IBM closed its Greencastle plant -- which employed 985 people in a community of about 10,000 -- during Hecko's junior year in high school. "The town was really hurting at that point," Wagner said.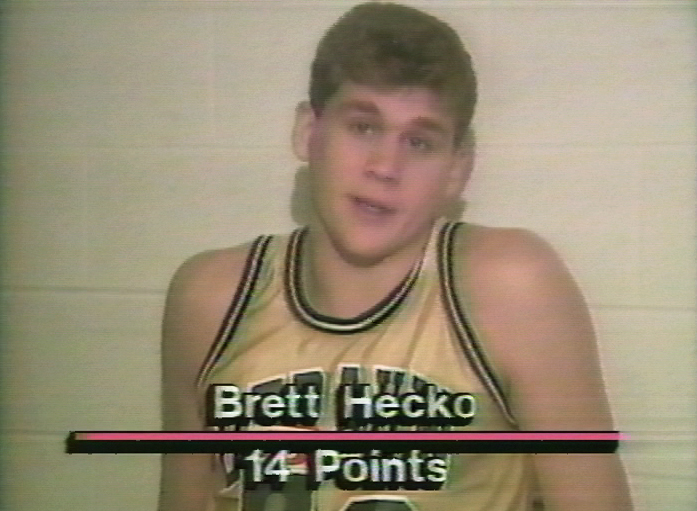 The following year, Hecko and his high school teammates overcame a 10-8 start to their season. "While jobs can't be brought back by a sports team, the spirit of the community can be lifted," Wagner noted. "And that team went on to win the first sectional in 19 years, they went to the semi-state, and probably without Damon Bailey playing on the other team (Bedford), would have gone to the Final Four in the state of Indiana."
The next season, as a freshman at DePauw, Hecko and his Tiger teammates, led by coach Royce Waltman, came within one point of winning the national Division III hoops championship.
"Much like the story of Greencastle, Brett Hecko's story is one of resiliency, effort and teamwork," Wagner stated.
Bernsee writes, "The 2015 DePauw Athletics Hall of Fame class also includes Beth Broering Ernst '01 (women's swimming and diving/track and field), Bob Cathcart '82 (football), Brett Crist '91 (men's basketball), Cara Duckworth '02 (field hockey) and Ginny (McCracken) Vogel '83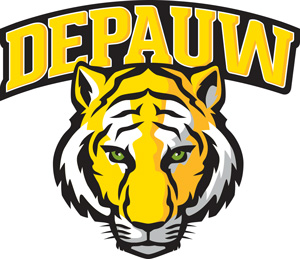 (women's basketball). The DePauw Athletics Hall of Fame has inducted 190 individuals and three teams (including the 1990 NCAA men's basketball runners-up) starting with the charter class of 25 individuals."
You'll find the complete article at the Greencastle paper's website.
Learn more about the 2015 inductees here.
Back