Annual List Again Places DePauw Among USA's Leading Colleges in Providing Fulbright Opportunities
February 21, 2017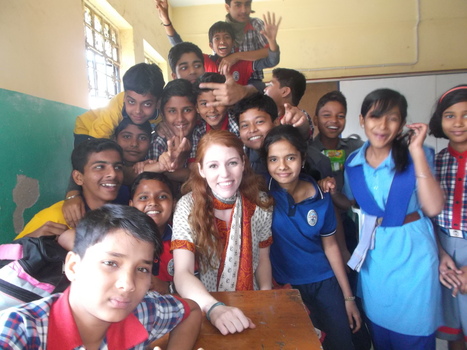 For the sixth consecutive year, DePauw University is among the nation's leading colleges in producing winners of Fulbright scholarships. The latest issue of the Chronicle of Higher Education, published today, lists DePauw among the "Institutions Producing the Most Fulbright Students". Based on data for 2016-17, the Chronicle notes that DePauw had eight Fulbright winners and that 26 students at the University applied for the prestigious awards. It is the only Indiana college on the liberal arts college list and is tied with Wellesley College for the #8 spot. (at right: Kara Bischak '12, who taught English in India with a Fulbright grant)
It's the tenth time in the last 11 years that DePauw has been listed among the American colleges and universities that produce the most Fulbright Scholars.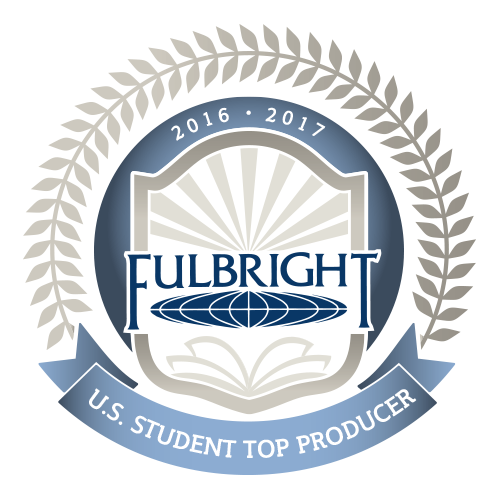 "The empowering experiences our students enjoy through Fulbrights are part of the exploratory and experiential opportunities that are part of the fabric of DePauw," says President D. Mark McCoy. "It says much for our students and our institution that we are perennially listed among the leading schools in making these life-changing possibilities to live and learn abroad a reality for our undergraduates."
Access the list at the Chronicle's website.
The Fulbright Program is the U.S. government's flagship international ed-ucational exchange program. Since its inception in 1946, the Fulbright Program has provided more than 370,000 participants -- chosen for their academic merit and leadership potential -- with the opportunity to exchange ideas and contribute to finding solutions to shared international concerns. Over 1,900 U.S. students, artists and young professionals in more than 100 different fields of study are offered Fulbright Program grants to study, teach English, and conduct research annually. The Fulbright U.S. Student Program operates in over 140 countries throughout the world.
The Fulbright Program is funded through an annual appropriation made by the United States Congress to the Department of State.
Participating governments and host institutions, corporations, and foundations in foreign countries and in the United States also provide direct and indirect support.
See the names of DePauw's Fulbright recipients here or visit the University's Fulbright page.
DePauw students and alumni who are interested in applying for Fulbright Awards may contact Jason D. Fuller, associate professor and chair of religious studies and director of the Asian studies program, or Kate Knaul, assistant dean of experiential learning and director of national fellowships and awards.
DePauw University ranks #4 among the nation's baccalaureate institutions in the number of students who studied abroad in 2015-16, according to the 2016 Open Doors Report on International Educational Exchange. Read more here.
Source: Chronicle of Higher Education
Back