Jan Risi '81 Joins PURE Bioscience Board
July 31, 2017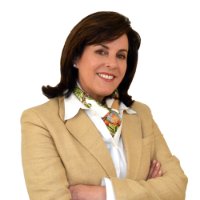 Jan Risi, president and CEO of the Independent Purchasing Cooperative and 1981 graduate of DePauw University, has been appointed to the board of directors of PURE Bioscience, Inc.(OTCQB: PURE). Risi will serve on the board's compensation committee.
Risi founded her company in 1996, which has "become the gold standard for foodservice supply chain management -- supplying all goods and services to Subway®," notes an announcement. "Today IPC annually manages in excess of $5 billion including food, packaging, equipment supplies and other services. Risi's many contributions include her service on the Subway Strategic Planning Council which aided the chain's growth from 7,000 to 40,000+ units worldwide. She also assembled an impressive leadership team which has delivered more than $2 billion of savings to the Subway franchisees -- all while increasing quality and food safety standards."
"As an accomplished food industry supply chain leader with extensive experience as a successful foodservice executive, we welcome Jan to the board and look forward to her making valuable contributions to PURE's growth strategy," stated Hank R. Lambert, CEO of PURE.
Risi adds, "It is clear to me from my many years of food industry experience that food safety is an increasing priority all along the food supply chain. The significant step-up in food safety provided by PURE's non-toxic SDC antimicrobial -- and the opportunity to be part of the solution -- is a big part of what attracted me to work together with the PURE board."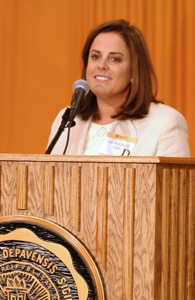 An economics major at DePauw, Risi received her alma mater's Robert C. McDermond Medal for Excellence in Entrepreneurship in 2010 and the Distinguished Alumni Achievement Award in 2012. She started her career with Ralston Purina Company in 1981 as a commodities buyer. Risi later worked with other food industry leaders such as Jack in the Box, Chef America, Inno-Pacific Group and Burger King.
Read more here or in this previous story.
Janet Risi Field delivered the 25th reunion address on behalf of the Class of 1981. A story detailing the event -- including a video clip and MP3 file of her speech -- can be found by clicking here. Video of the address is embedded below.
Back