NPR Affiliate Recaps Hamilton '52-Lugar DePauw Discussions on Civility in Modern Life
February 16, 2018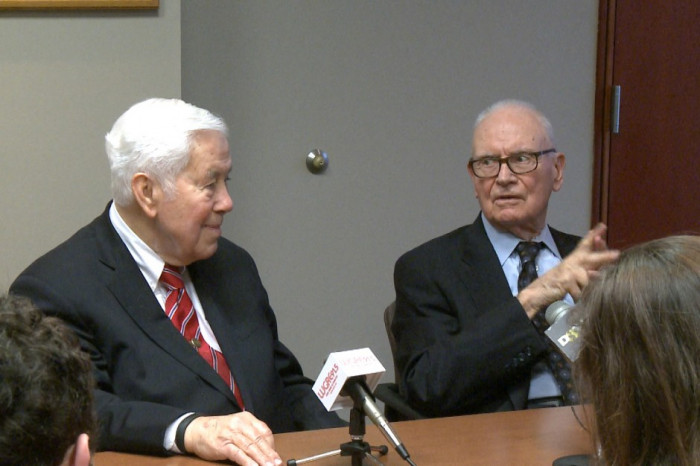 "'We've had our shot,' former Rep. Lee Hamilton told an estimated audience of 375 Thursday at DePauw University. 'Now it depends on you,'" reports Bloomington, Indiana NPR affiliate WFIU. "An event Thursday night featured a pair of prominent Indiana politicians: former Republican Sen. Richard Lugar and Democratic Rep. Hamilton, who discussed civility, bipartisanship and citizen involvement."
The story by Brock Turner, a 2017 graduate of DePauw, recaps both last night's public event in East College's Meharry Hall and an afternoon news conference in DePauw's Pulliam Center for Contemporary Media (seen in the top photo).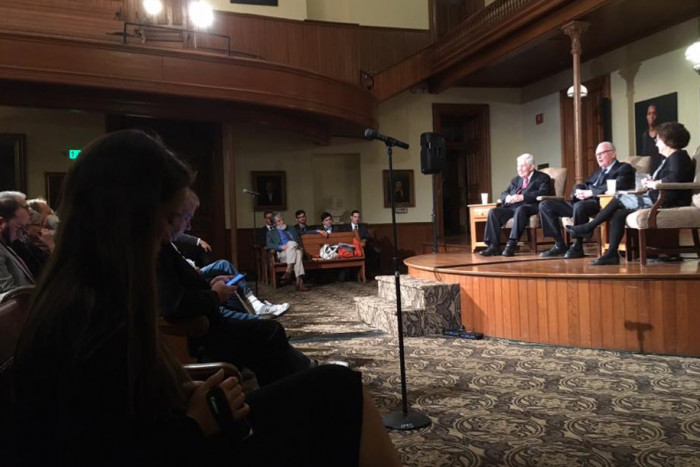 Access the report here.
Lee Hamilton is a 1952 graduate of DePauw. Both he and Senator Lugar have made many visits to campus over the past 40+ years, including Ubben Lectures (Lugar in 2004 and Hamilton in 2011) -- and each has received the University's McNaughton Medal for Public Service as well as honorary doctorates from DePauw.
A summary of yesterday's events is available here; video of the discussion on civility is embedded below.
Back