Danny Pierce '86 to be Honored by Indiana Basketball Coaches Association
March 31, 2019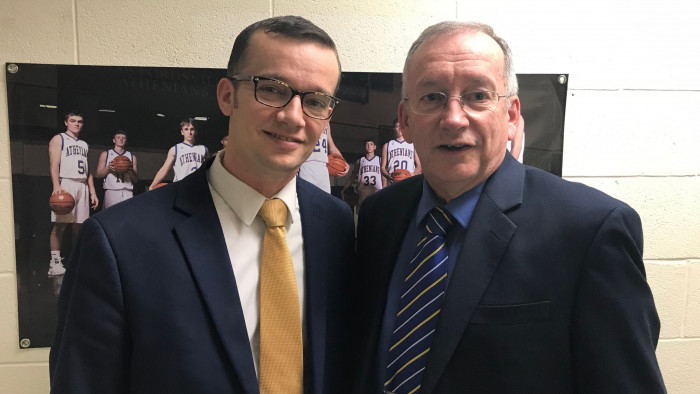 Danny Pierce, assistant boys' basketball coach at Crawfordsville High School, will be honored as a 2019 Indiana Basketball Coaches Association Assistant Coach of the Year. Pierce, who earned a master's degree from DePauw University in 1986, will receive the award at the 2019 IBCA Clinic on April 26 at Lawrence North High School in Indianapolis. (photo: David and Danny Pierce by Kyle Neddenriep/Indy Star)
The award is given to "coaches who have contributed in a significant way to their respective schools' programs for a number of years," notes the Noblesville Times.
"Danny Pierce has impacted the lives of countless young people for the past 40 years. He taught and coached at Western Boone for 35 years and has been a boys basketball assistant coach at Crawfordsville for the past five years," according to the newspaper. At Western Boone, Coach Pierce coached varsity and JV basketball, varsity and JV baseball as well as being a long-time member of the football staff. He also coached JV softball, junior high football, junior high cross country and junior high track at different points. Known as 'The Mayor' in Thorntown, Coach Pierce's basketball teams at WeBo won a conference title in 1993,
three consecutive sectional championships from 1996 through 1998 plus regional crown in 1998. In 2014, Coach Pierce moved to Crawfordsville to serve as a boys' basketball assistant to his son, David. Upon Danny Pierce's arrival, the Athenians won their first sectional in 25 years and contributed to a change in culture."
Read more here.
Danny and David Pierce were recently featured in the Indianapolis Star.
Back