Sustainability Leadership Program Internships
SLP Internships are two semesters long and allow students to function as an extension of staff in the Office of Sustainability while empowering partners across campus.
Student interns can expect to gain concrete knowledge of sustainability solutions, collaborate on exciting, impactful initiatives with fellow interns, and acquire experience tackling complex challenges within sustainability to apply throughout their time at DePauw and beyond. SLP Interns are given personalized mentoring and coaching by Sustainability Staff to promote hands-on experiences, systems thinking, and collaboration between campus partners such as fellow interns, campus offices/departments, and student organizations.
Note: Students of all majors and interests are eligible to apply! This includes Bonners, Honors Scholars, Environmental Fellows, etc.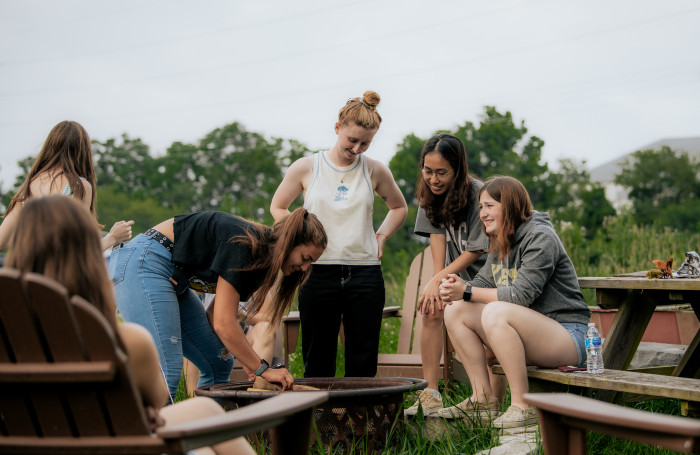 Now hiring For fall 2022-Spring 2023
Please read this document of Internship Descriptions before applying for a position.
Application process for all SLP internships:
Submit your application by 5pm on Tuesday, April 12, 2022
In-person interviews take place between April 19-29
Official offers are made by May 6
For questions related to the application process, please email sustainability@depauw.edu

Below, see our internship openings and some recommended responsibilities/goals associated. The goals of each internship change to meet the interests/goals of the student intern.
Sustainability Internships
Bike/Transportation
Running bike-loan/rental program

Conducting bike repairs by appointment for all students

Co-running Greencastle Bike Party
Promoting a culture of walking/biking on DePauw's campus
Possible Goals:
Outreach to local schools

Uplifting community bike programs (library etc.)

Applying for a Mini-Grant 

Partnering with Putnam Parks and Pathways to encourage safe biking along the People's Pathways
Intersectional Sustainability
Identifying the intersections of campus sustainability issues and diversity, equity, inclusion, and justice

Researching the ways in which campus sustainability challenges and solutions disproportionately affect vulnerable communities

Assisting with MLK Day programming

Identifying, planning, and executing partnerships or events with DePauw Student Government, NAACP, CDI, the Women's Center, NAIPA, etc.

Seek out and encourage opportunities for collaboration between SLP interns/Office of Sustainability and DePauw communities that may face barriers to engaging in sustainability
Possible Goals:
Understand and break down barriers to engaging with farming and nature

Design a climate justice panel with Environmental Fellows

Plan a trash-fashion show in collaboration with the Thrifty Tiger and House of Opulence
Sustainability Consulting/Event Planning
Running the Green Events Certification process

Providing consultation services to groups planning Green Events

Planning and assisting with the Harvest Festival

Encouraging and planning campus-wide use of the Ullem Center for events

Promote a culture of sustainable events and programs within all areas of campus
Possible Goals:
Connect with local sustainable businesses for Harvest Festival and workshops

Coordinate with Green Greek Intern to promote sustainable events within FSL

Connect with Coordinator of Campus Activities for campus-wide Green Certified Events

Apply for a mini-grant
Media/Campus Engagement
Managing Office of Sustainability social media posts

Editing and maintaining Office of Sustainability website

Creating educational visual materials to highlight of sustainability events, issues, job postings, and more to DePauw's campus

Assisting with promotion of Mini-Grant opportunities and deadlines

Designing and creating the SLP bulletin board once per semester

Documenting related programs/events through photos and videos
Possible Goals:
Create a mini-documentary on a sustainability topic of interest

Highlight professors conducting sustainability-related research on campus

Utilize a drone to create visuals of the Ullem Campus Farm or DePauw Nature Park

Apply for a mini-grant
Dining/Food Waste
Promoting the sustainability efforts of Bon Appetit

Assisting with the Green-to-Go program

Planning an Earth Month menu with Bon Appetit

Coordinating collection of compost and recyclables from the dining and residence halls

Encouraging sustainability-related programs and challenges in residence halls
Possible Goals: 
Adjust composting policies within residence halls to allow for worm bins

Collaborate with the Center for Spiritual Life to give away leftover Hoover food

Pass a resolution though DSG to reduce plastic in C-Stores or encourage local food options
Fraternity & Sorority Life
Collaborate with the Director of Greek Life to engage our chapters in lasting sustainability initiatives
Possible Goals:
Low-waste recruitment

Environmentally-focused philanthropy

Clothing donations, composting, and recycling in the houses
Design Your Own Internship Opportunity
Do you see a sustainability-related need on campus that is not being addressed? Submit a request to design your own internship!
Past examples include AASHE STARS, Nature Park, Facilities/Landscaping, Conservation, Environmental Policy, and more!
Campus Farm Internships
Hydroponics
Tending and growing year-round produce such as Swiss chard, strawberries, lettuce, and more (you decide!) to deliver to Hoover Dining Hall

Ensure the functionality of the system by maintaining and logging nutrient levels, setting the pumps and timers, and keeping the tank and growing medium clean

Connecting with hydroponic growers in the area to exchange ideas

Identifying and problem-solving any issues with the system
Possible Goals
Creating a comprehensive "How To"  guide for maintaining the system

Leading educational hydroponic lessons for local youth

Transitioning the hydroponics system to aquaponics by incorporating tilapia fish
Composting
Designing and maintaining a functional system for compost production at the farm 

Leading coffee ground and food scrap pick-ups with Bon Appétit, campus cafes, and Greek houses

Coordinating with Farm Interns, volunteers, and  university partners for managing the system

Researching and connecting with other composters and university farms 

Keeping detailed documentation of the process and research 
Possible Goals: 
Installing educational signage about the "what, why, and how" of composting

Tending to and harvesting compost from the farm's vermicomposting worms

Working with Housing to implement worm or composting bins in residence halls
Farm Hand (Multiple Openings)
Completing late summer to early spring work such as field prep and tear down, seeding, preparing beds, transplanting, weeding, watering, harvesting, washing, packing, delivering, and documenting produce

Using mechanized and non-mechanized tools for weeding and preparing beds

Participating in DePauw and Greencastle community events that promote the farm (such as Sustainability Fridays and Taste of Putnam County)

Working with and directing youth, peer, and adult volunteer groups

Maintaining organization of the Ullem Center, greenhouse, wash and pack, and farm shed
Possible Goals:
Developing lesson plans about sustainable agriculture and the environment for local elementary schools

Aiding the Farm Manager in planning hoop house crop varieties and growing strategies

Leading farm beautification projects and use of the non-farm field property
Thrifty Tiger Internships
Possible Specialized Roles
Marketing/Social media 

Donation Collection and Management 

Event Planning

Store Operations and Sales

Environmental Education

Suggest your own specialization!