Bias Incident Response Team Process
As outlined on these pages about the Bias Incident Response Team, the BIRT team exists to support individuals or groups reporting under this policy. The purpose of the process is to provide support to the target individuals or groups after an incident occurs.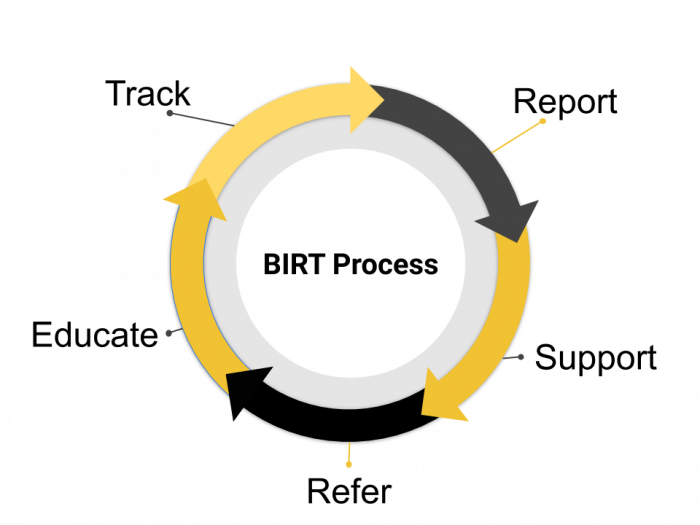 Report
Any DePauw student, staff, and or faculty  who has knowledge of or has experienced a bias incident, on or off campus, may report an incident. Bias incidents experienced by faculty and staff will be forwarded to Human Resources and or DePauw Police. Incidents that may be considered criminal will be investigated by DePauw Police.
Support
The BIRT's focus is to support the DePauw community by meeting with and ensuring the affected individual(s) and others have access to support and resources.
Refer
The BIRT will assign specific staff members to individual students, staff, faculty and communities affected by a bias offense to investigate and provide ongoing support.
Educate
The BIRT will collaborate with campus partners and external agencies to host programs and events to educate the campus community on issues related to diversity and inclusion. Cases that require restorative measures, corrective measures, and or disciplinary action will be forwarded to community standards or DePauw Police.
Track
The BIRT maintains a log of all bias incidents, which can be viewed on the BIRT website. The BIRT will track and assess the environmental impact bias incidents may have had on the DePauw community and recommend initiatives to prevent future incidents on campus. A report is presented annually to the Board of Trustees, Faculty Governance, Student Government, and Staff Advisory Council.