DePauw Theatre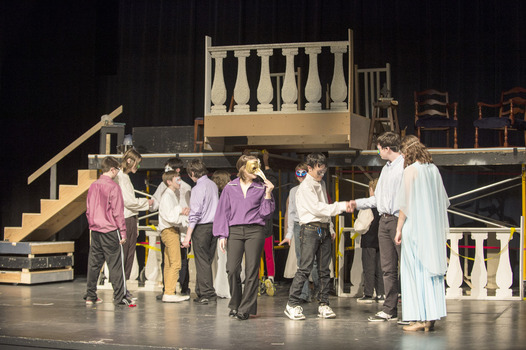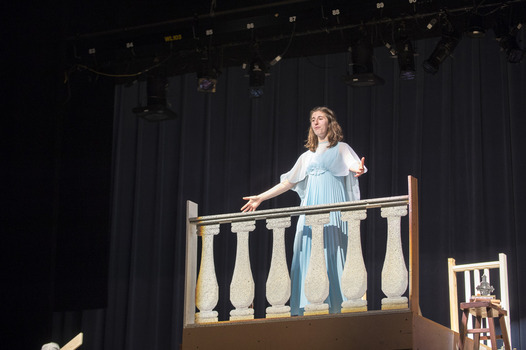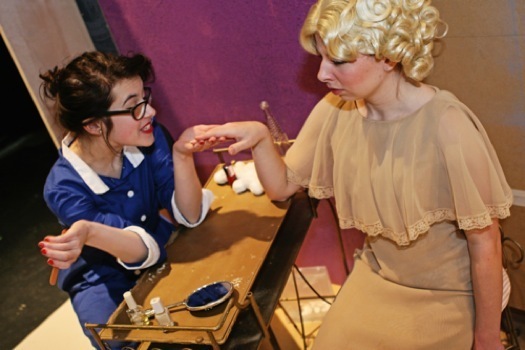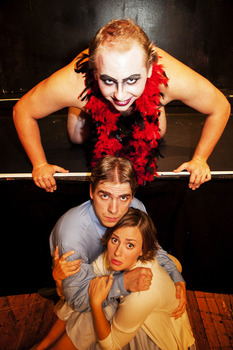 2013-14 season
Fall Festival of Shakespeare at DePauw
(12/9 UPDATE: THE DEC. 6 PERFORMANCES HAVE BEEN RESCHEDULED for Dec. 13)
festival director - Amy Hayes
assistant festival director - gigi jennewein


Dec. 13, 6 p.m. - TAMING OF THE SHREW, CLOVERDALE MIDDLE AND HIGH SCHOOLS
DEC. 13, 8 p.m. - ROMEO AND JULIET, GREENCASTLE MIDDLE AND HIGH SCHOOLS
Dec. 7, 3 p.m. - MERCHANT OF VENICE, NORTH PUTNAM MIDDLE AND HIGH SCHOOLS
DEC. 7, 5 p.m. - AS YOU LIKE IT, SOUTH PUTNAM MIDDLE AND HIGH SCHOOLS
---
Spring 2013
Achilles/Achilles' Son
By Sean Graney
Directed by Tim Good
Jan. 20, 7:30 pm
Jan. 26, 1:00 pm
Jan. 27-29, 7:30 pm
Achilles/Achilles' Son is Sean Graney's bold, new take on seven ancient Greek tragedies focused on the Trojan War. (Aeschylus' The Persians; Sophocles' Philoktetes and Ajax; and Euripides' Iphigenia in Aulis, Rhesus, Hecuba and The Trojan Woman.) It offers a forum for exploring our current universal problems, addressing the need for citizens to be active, helpful parts of their society. The project mirrors Greek communal festivals, mixing theater, music, food and debate. Achilles/Achilles' Son seeks to create a micro-society, where we can discuss ethical issues raised in the play. These issues include, but are not limited to: the role of leadership, the value of life, respect for the dead, the nature of war and responsibility to family. Free food included.
The Comedy of Errors
By William Shakespeare
Directed by Andrew Hayes
April 10-12, 7:30 pm
April 13, 1:00 pm
This ain't your Granny's Shakespeare! What happens when not one, but two sets of identical twins that were separated shortly after birth suddenly find themselves in the same city? Come and see. Shakespeare's first play tells the comic tale of these two sets of twins whom fate separated then reunited. In our Wild West version, the twins find themselves in the American West of the 1870's. When Antipholus and Dromio of Omaha find themselves in Monterey, California, wives mistake husbands, masters mistake servants and general mayhem ensues.
---
Fall 2013
RICHARD O'BRIEN'S THE ROCKY HORROR SHOW
DIRECTED BY STEVE TIMM
OCT. 3, 7:30 PM
OCT. 4-5, 10:30 PM
OCT. 11-12, 10:30 PM
An alien transvestite/mad scientist with a sonic transducer, a ripped monster man, and a castle full of Phantoms and Transylvanians transform wholesome Brad and Janet into liberated sex fiends in Richard O'Brien's musical celebration of 1950s sci fi movies and rock 'n roll. The Rocky Horror Show returns to DePauw replete with local musical celebrities and plenty of gratuitous sex and violence! So grab your fishnet stockings and look for special deals on our late night showings. Sexually explicit material may not be appropriate for all audiences.
THE WOMEN
BY CLARE BOOTH LUCE
DIRECTED BY M. SUSAN ANTHONY
NOV. 21 - 23, 7:30 PM
NOV. 24, 1:00 PM
Poor Mary Haines. As the pampered wife of wealthy Stephen Haines and a Park Avenue socialite in 1930s New York, she believes that her life is perfect. Mary's friends, however, inform her that her husband is having an affair with Crystal, a perfume-counter salesgirl. Mary must now deal with her straying husband, his scheming mistress, and Mary's own circle of "friends," who offer loud and frequent opinions about what she should do. Written by Luce, playwright, journalist, and congresswoman, The Women is a classic of the American stage. Described as a "wicked comedy," The Women offers a biting critique of women's relationships with each other – and prompts spectators to consider the nature of happy marriages and true friends.
As the playwright stated, "The women who inspired this play deserved to be smacked across the head with a meat axe, and that, I flatter myself, is exactly what I smacked them with." – Clare Booth Luce