DePauw Theatre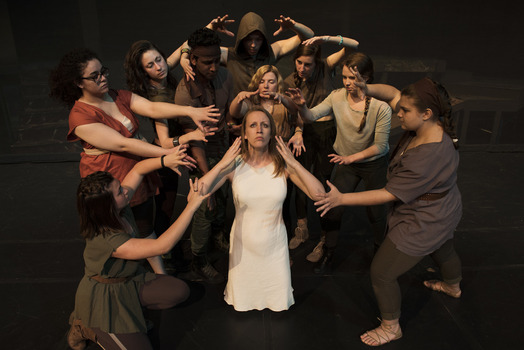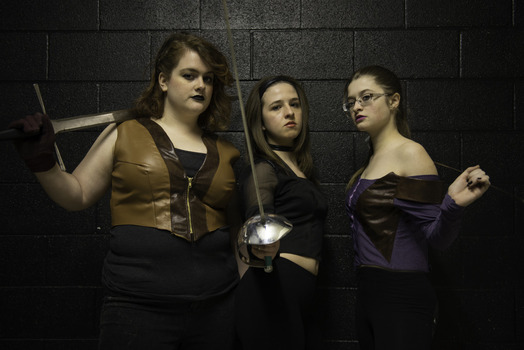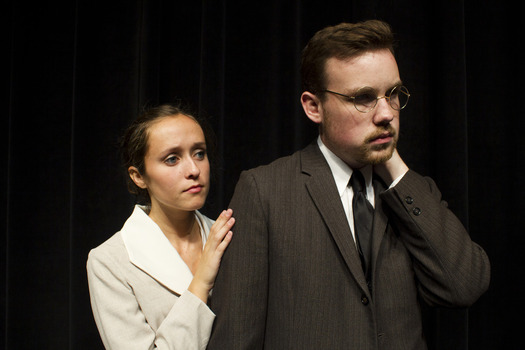 DePauw Theatre students use the unique advantages of the liberal arts environment to craft individualized paths to a professional life in the arts. We offer hands-on experiences for students to work their way up to design, produce and direct during our main stage season. DePauw Theatre produces five mainstage productions each year, including musicals, 2-3 student productions, a festival of original plays, an improv/sketch comedy troupe and insomniac theatre.
2014-15 season
Living Dead in Denmark
by qui nguyen
directed by andrew hayes
march 12-14 | 7:30 p.m.
march 15 | 1 p.m.
What if Shakespeare's characters lived on … no, I mean really lived on as in becoming the undead? That fantasy is the premise of this lively contemporary mash-up of characters from Shakespeare's plays. What would happen if Ophelia and others were raised from the dead to help the humans fight a Zombie Lord? Spectacular fights and irreverent modern language frame this exploration of familiar characters in a whole new light. May the strongest characters win!
---
Antigone
By Sophocles
Directed by Caroline Good
april 16-18 | 7:30 p.m.
april 19 | 3 p.m.
Antigone is a high-stakes, driven, dense drama between the rule-followers and rebels. Antigone's choices require her to obey divine law and defy authority in order to bury her dead brother. She chooses family over the state and through her civil disobedience, she risks everything. In the ancient Greek tradition, Sophocles' play explores loyalty – loyalty to family and loyalty to the state. Antigone is an underdog fighting against the establishment, which speaks to us today just as much as it spoke to Athenian audiences over 2,000 years ago.
---
Spring Spectacle of Shakespeare
directed by amy hayes
purchase tickets here
saturday, may 2
green center for the performing arts, moore theatre
2 p.m. Cloverdale: King Lear
4 p.m. North Putnam: Hamlet
7 p.m. Greencastle: Twelfth Night
The Spring Spectacle is a twelve-week collaboration between DePauw University and all eight Putnam County middle and high schools. Directed by teams of DePauw University students, the Spectacle culminates in four fully staged 90-minute Shakespeare plays over the course of two days. In part, the Spring Spectacle is inspired by and created in collaboration with our friends and colleagues at Shakespeare & Company in Lenox, MA.
---
PARADE
MUSIC AND LYRICS BY JASON ROBERT BROWN
BOOK BY ALFRED UHRY
DIRECTED BY TIM GOOD
MUSIC DIRECTION BY STEVEN LINVILLE '06
CHOREOGRAPHED BY DEBORAH GRAMMEL
OCTOBER 9-11 | 7:30 P.M.
OCTOBER 12 | 2 P.M.
The lynching of Leo Frank in 1915 by the Knights of Mary Phagan, sent shock waves through the nation, and marked the rebirth of the modern Ku Klux Klan. The musical Parade challenges the problems of anti-Semitism, racism, provincialism and blind hate, by asking us to get to know these characters as real people. The music and lyrics by Tony Award-winning composer Jason Robert Brown (The Bridges of Madison County, Songs for a New World), take you on an emotional and personal journey inside the relationships and problems of the people caught in this turmoil. Parade transcends the surface of the case, and asks us to consider whether the real evil doesn't live inside each of us.
Presented by DePauw Theatre and the School of Music with support from the Prindle Institute for Ethics and funding from the Anne Prindle Johnson and David S. Johnson Speaker Fund.
Not recommended for children under 13.
Parade is a dramatization of real-life events.These events contain heavy themes of anti-Semitism, racism and assault. This content is not a reflection of the opinions of those involved, but rather a view of historical facts.
---
X ← STEVE HERE 2.0
WRITTEN AND DIRECTED BY STEVE TIMM
NOV. 20-22 | 7:30 P.M.
NOV. 23 | 1 P.M.
A follow-up to Timm's 2007 Steve Here → X, this new installment of monologues and vignettes creates portraits of individuals urgently seeking solace and meaning in the vanishing wilderness. Inspired by encounters during his sabbatical travels to the Everglades, wild rivers of Montana, isolated waterways of northern Florida and boreal forests of the north country, Timm's characters confront a variety of nightmares, fears, shortcomings and creatures – both human and non-human – on the path to discovery, strength and purpose. Some of the pieces contain adult language and situations.