Past Seasons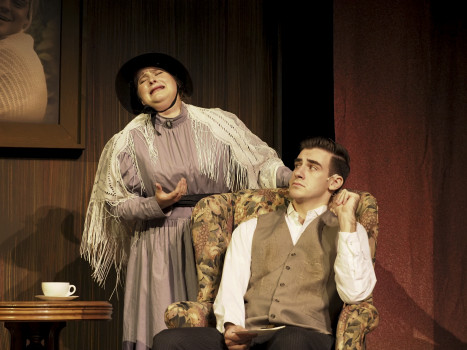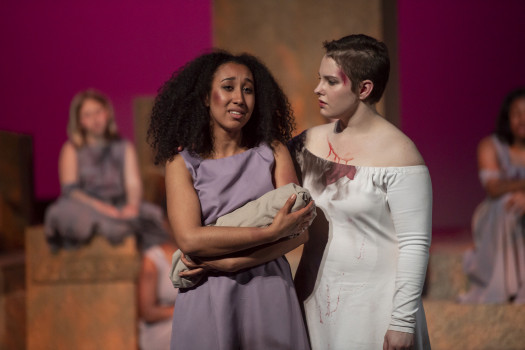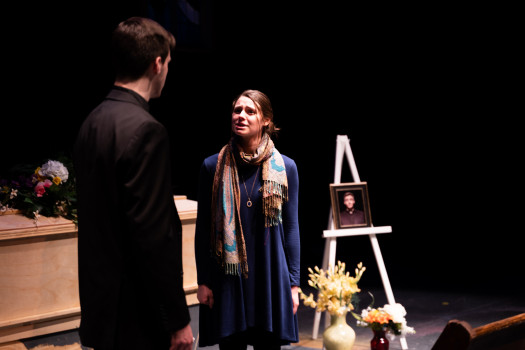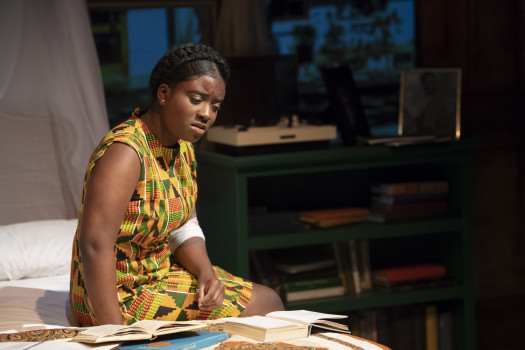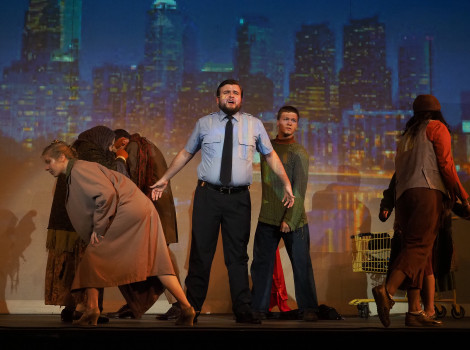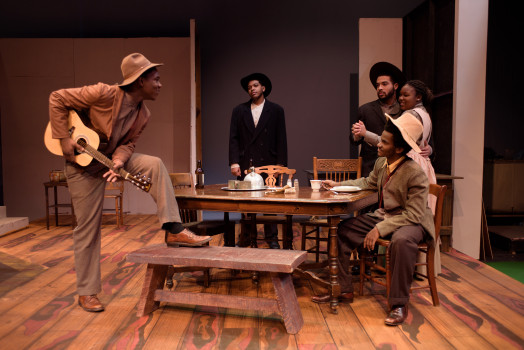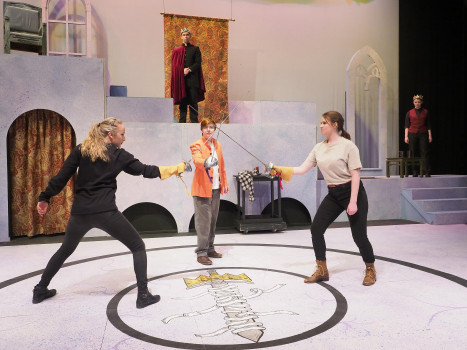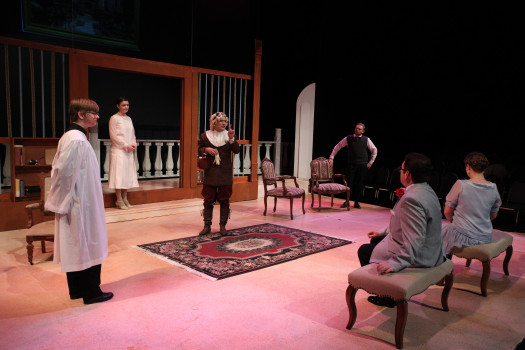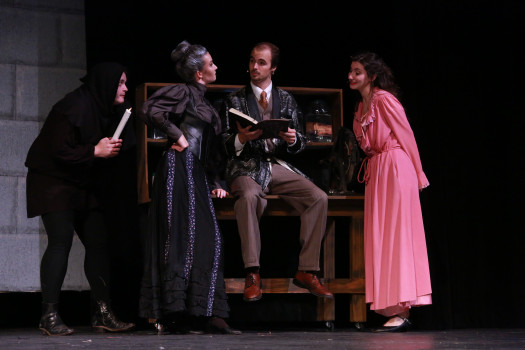 Select a season below for more information.
2018/19
SISTER ACT
music by Alan Menken
lyrics by Glenn Slater
book by Bill and Cheri Steinkellner

DIRECTED BY SUSAN ANTHONY
MUSICAL DIRECTION BY STEVEN LINVILLE '06
CHOREOGRAPHY BY JARED NORMAN '12
SEPT. 27-29 | 7:30 P.M.
SEPT. 30 | 1 P.M.
Sister Act, the "feel-good, musical comedy smash" opens with Deloris Van Cartier, unsuccessful wannabe nightclub singer, witnessing a murder. When Deloris unexpectedly sees her married gangster lover Curtis shoot a man, she must run for her life before he is able to silence her. The police decide to hide her in the very last place anyone would think of looking: a convent.
Deloris, now Sister Mary Clarence, must give up her flashy outfits, cigarettes, and liquor but she gains so much more as she learns to appreciate the enthusiasm and courage of the Sisters. Share the excitement as Deloris turns the sad, off-key choir into a joyous, inclusive, and highly lucrative Philadelphia sensation, which attracts international attention but also puts the lives of Deloris – and the Sisters – in jeopardy.
Nominated for five Tony awards, Sister Act features an exuberant mix of music ranging from Motown, soul, and disco to poignant ballads and transcendent hymns, all designed to celebrate music's ability to change lives and bring together different communities. Join the sisters and make a joyful noise!
PLAYS BY LATINA AND AFRICAN AMERICAN WOMEN
POOF! BY LYNN NOTTAGE
SHE TALKS TO BEETHOVEN BY ADRIENNE KENNEDY
PERSONAL EFFECTS BY GRISELDA GAMBARO
SPRINGTIME BY MARIA IRENE FORNES
DIRECTED BY TIM GOOD
NOV. 15-17 | 7:30 P.M.
NOV. 18 | 1 P.M.
Spontaneous combustion. A mountain of suitcases. Beethoven in Ghana. Intersections of Poverty/Homophobia/Illness. Four extraordinary playwrights directly confront the deeper issues of our time, creating a performance full of humanity, fierce love, and courage. The plays are: Poof! by two-time Pulitzer Prize winner Lynn Nottage, Springtime by nine-time Obie Award winner Marie Irene Fornes, She Talks to Beethoven by Obie Lifetime Achievement Award winner Adrienne Kennedy, and Personal Effects by Argentinian Guggenheim Fellow Griselda Gambaro.
DEPAUW ONE ACTS
DIRECTED BY STEVE TIMM
MARCH 7-9 | 7:30 P.M.
MARCH 10 | 1 P.M.
DePauw Theatre is once again proud to present an evening of student written one-act plays. Giving new writers a voice and venue has been a priority for nearly thirty years in DePauw Theatre, and this year we present three short plays by women writers. In Where's the PA? by senior Megan Mannering, a production assistant on a popular reality show finds herself thrust into a starring role when the lead actress stomps off the set. As a popularity storm roars on social media, our spotlighted heroine finds herself forced to confront her true self rather than her mediated fabrication. A Father's Joy, by senior Kate Woods, finds an estranged daughter tasked with eulogizing the dead father she blames for her mother's untimely death. The problem is the dead father wants the last word. And in Online Classes, by senior Caroline Knight, good intentions go south when a young teacher creates a falsified online persona to "friend" a social outcast from her class.
TROJAN WOMEN
DIRECTED BY CAROLINE GOOD
APRIL 11-13 | 7:30 P.M.
APRIL 14 | 1 P.M.
Euripides' Trojan Women is the one of the greatest anti-war plays ever written. It depicts the suffering of women and children after every war. It has been used many times to protest against war and to act as a warning for audiences who see it. It can also be a consolation for those who are suffering, because in it they see that over the ages, others too have suffered. In our moment in time when war should be obsolete, it is a time filled with perpetual war, fueled by a hunger for power, and yet rather than spreading democracy, the tragedy of displacement, death, and destruction is spread and must be endured by those current victims of war, just like the Trojan women. In contrast to the grief of the women, the barbarism of the so-called civilized Greeks is an indictment of all imperialists. Hence, the unfortunate relevance today of this story that was written over 2,000 years ago.
SPRING SPECTACLE OF SHAKESPEARE
DIRECTED BY SHAKESPEARE IN THE SCHOOLS STUDENTS
PROGRAM DIRECTOR AND INSTRUCTOR OF SHAKESPEARE IN THE SCHOOLS COURSE, GIGI JENNEWEIN
SATURDAY, MAY 4
Cloverdale Schools
South Putnam Schools
North Putnam Schools
Greencastle High School
In its 8th year, the Spring Spectacle is a partnership between DePauw University and Putnam County schools. The program trains DPU students to direct local middle and high school students in the mounting of fully staged 90-minute Shakespeare plays. The Spring Spectacle is inspired by and produced in association with Shakespeare & Company in Lenox, MA.
2017/18
YOUNG FRANKENSTEIN
BOOK BY MEL BROOKS AND THOMAS MEEHAN
MUSIC AND LYRICS BY MEL BROOKS
DIRECTED BY STEVE TIMM
MUSICAL DIRECTION BY STEVEN LINVILLE '06
CHOREOGRAPHY BY JARED NORMAN '12
OCT. 5-7 | 7:30 P.M.
OCT. 8 | 1 P.M.
From the creators of the record-breaking Broadway sensation, The Producers, comes this monster new musical comedy. The comedy genius, Mel Brooks, adapts his legendarily funny film into a brilliant stage creation – Young Frankenstein!
Grandson of the infamous Victor Frankenstein, Frederick Frankenstein (pronounced "Fronk-en-steen") inherits his family's estate in Transylvania. With the help of a hunchbacked sidekick, Igor (pronounced "Eye-gore"), and a leggy lab assistant, Inga (pronounced normally), Frederick finds himself in the mad scientist shoes of his ancestors. "It's alive!" he exclaims as he brings to life a creature to rival his grandfather's. Eventually, of course, the monster escapes and hilarity continuously abounds.
Every bit as relevant to audience members who will remember the original as it will be to newcomers, Young Frankenstein has all the of panache of the screen sensation with a little extra theatrical flair added. It will surely be the perfect opportunity for a production company to showcase an array of talents. With such memorable tunes as "The Transylvania Mania," "He Vas My Boyfriend" and "Puttin' on the Ritz," Young Frankenstein is scientifically proven, monstrously good entertainment.
Originally Produced on Broadway By Elliot Martin, Vy Higginsen and Ken Wydro; produced in association with Yale Repertory Theatre (Lloyd Richards, Artistic Director; Benjamin Mordecai, Managing Director); associate producer, Jeffrey Steiner, Kery Davis and Charles Grantham. World Premiere at Yale Repertory Theatre; Second Production at Huntington Theatre Company (Peter Altman, Producing Director; Michael Maso, Managing Director); Originally presented as a staged reading at the 1984 National Playwrights Conference at the Eugene O'Neill Theatre Cent
Presented through special arrangement with Music Theatre International (MTI).
THE IMPORTANCE OF BEING EARNEST
WRITTEN BY OSCAR WILDE
DIRECTED BY M. SUSAN ANTHONY
NOV. 16-18 | 7:30 P.M.
NOV. 19 | 1 P.M.
Join Algy and Jack, two dashing (and clueless) men about town, and Cecily and Gwendolyn, two charming (and ruthless) young women bent upon matrimony. Add an orphan infant in a handbag, two sickly imaginary dependents, and the infamous Lady Bracknell – and you have The Importance of Being Earnest. Oscar Wilde's farcical comedy, subtitled "A Trivial Comedy for Serious People," has delighted audiences since its premiere in 1895. No one is what he (or she) seems in Earnest – and Wilde's scathing satire mocks social conventions, pomp and pretense – and marriage. In particular, The Importance of Being Earnest skewers stereotypical gender relations and introduces the "New Woman" in a frothy comedy often deemed "the greatest English stage comedy of all time."
JOE TURNER'S COME AND GONE
WRITTEN BY AUGUST WILSON
DIRECTED BY GUEST ARTIST KATHRYN BENTLEY,
ARTISTIC DIRECTOR, BLACK THEATRE WORKSHOP, SOUTHERN ILLINOIS UNIVERSITY EDWARDSVILLE 
FEB. 1-3 | 7:30 P.M.
FEB. 4 | 1 P.M.
August Wilson's Joe Turner's Come and Gone is set in a Pittsburgh boarding house in 1911. Owners Seth and Bertha Holly play host to a makeshift family of people who come to stay, some for days, some longer, during the Great Migration of the 1910s when descendants of former slaves moved in large numbers from the South toward the industrial cities of the North, seeking new jobs, new lives and new beginnings.
Among those on the move are Herald Loomis and his young daughter, Zonia. Haunted by the past, they are headed wherever the road takes them in search of the long gone Martha, Herald's wife, and Zonia's mother. Herald arrives at the boarding house unsettled, dark and secretive. Seth Holly is suspicious and wants him out almost as soon as he arrives, but Bertha and the others see him differently, and by action and example, they help set him on the way to recovering his lost spirit and finding a new life. Directed by Guest Artist Kathryn Bentley, Director of the Black Theatre Workshop at Southern Illinois University Edwardsville.
Joe Turner's Come and Gone is presented by special arrangement with SAMUEL FRENCH, INC.
HAMLET MOSTLY
DIRECTED BY ANDREW HAYES
APRIL 12-14 | 7:30 P.M.
APRIL 15 | 1 P.M.
Hamlet is Shakespeare's most recognizable play, but whose story is it? Join us for a mostly Shakespeare language performance that explores the interpretation, ideas and relationships of the play we all know so well through an experimental and energetic re-telling of the story. Hamlet Mostly is a collaboration between its original storyteller, the man we think we know as Shakespeare, and this production's director, cast and crew.
SPRING SPECTACLE OF SHAKESPEARE
DIRECTED BY SHAKESPEARE IN THE SCHOOLS STUDENTS PROGRAM
DIRECTOR AND INSTRUCTOR OF SHAKESPEARE IN THE SCHOOLS COURSE, GIGI JENNEWEIN
SATURDAY, MAY 5
1 P.M. Cloverdale Schools 3 P.M. South Putnam Schools
5 P.M. North Putnam Schools
7 P.M. Greencastle High School
In its 7th year, the Spring Spectacle is a partnership between DePauw University and Putnam County schools. The program trains DPU students to direct local middle and high school students in the mounting of fully staged 90-minute Shakespeare plays. The Spring Spectacle is inspired by and produced in association with Shakespeare & Company in Lenox, MA.
2016/17
COMPANY
MUSIC AND LYRICS BY STEPHEN SONDHEIM
BOOK BY GEORGE FURTH
DIRECTED BY M. SUSAN ANTHONY
STEVEN LINVILLE '06, MUSIC DIRECTOR
SEPT. 29-30 | 7:30 P.M.
OCT. 1 | 2 P.M. AND 7:30 P.M.
OCT. 2 | 4 P.M.
"Phone rings, door chimes, in comes Company!" DePauw Theatre and DePauw's School of Music present the Tony-awarding winning musical Company, with music and lyrics by Stephen Sondheim. 
Perennially single Bobby is pushed toward matrimony by his married friends: long-married Sarah and Harry, about-to-be-married Amy and Paul, about-to-get-divorced Susan and Peter, married-with-kids Jenny and David, and many-times-married Joanne and Larry. Worse, Bobby gets more pressure from girlfriends April, Mara and Kathy, who hope that he will –finally – commit. Called, "diamond sharp, funny and chilling," this award-winning musical comedy features iconic songs from Stephen Sondheim. Join a stellar cast for Company, a witty and acerbic musical commentary on love – and marriage.
THE GOOD PERSON OF SZECHWAN
WRITTEN BY BERTOLT BRECHT
DIRECTED BY GIGI JENNEWEIN
ORIGINAL MUSIC BY JERALD PARKS '17
NOV. 17-19 | 7:30 P.M.
NOV. 20 | 1 P.M
Can one be good in a corrupt world? This is the central question in Bertolt Brecht's timeless parable about Shen Te, the good prostitute, who must ultimately employ bad practices to have even the most basic of life's necessities. While the title of the play suggests a Chinese setting, it is no stretch to imagine – as we do – that the story happens in a modern U.S. city, in one of those places, according to Brecht "where man is exploited by man."   
When Shen Te alone satisfies the need of visiting "gods" to prove success with their governing policies, she is rewarded with money. Not unsurprisingly, Shen Te uses her windfall to better herself and the lives of her impoverished friends and neighbors. But her good deeds are exploited and impossible to sustain, and Shen Te is forced to resort to deceit and oppression nearly killing off her much desired and admired goodness. 
As with most of his work, Brecht is critiquing societal politics that make it so difficult to adhere to moral principles. And he hopes – as do we – that his work will inspire play-goers to question why and work towards change.
STREET SCENES OF PUTNAM COUNTY AND DEPAUW: ORIGINAL STORIES BY, FOR AND ABOUT OUR COMMUNITY
COLLECTIVELY CREATED BY COMMUNITY MEMBERS
DIRECTED BY TIM GOOD
MARCH 16-18 | 7:30 P.M.
MARCH 19 | 1 P.M.
ANGELS IN AMERICA, PART ONE: MILLENNIUM APPROACHES
WRITTEN BY TONY KUSHNER
DIRECTED BY STEVE TIMM
APRIL 21-22 | 7:30 P.M.
APRIL 23 | 1 P.M.
Angels in America, Part One: Millennium Approaches is the first half of Tony Kushner's Pulitzer Prize winning drama detailing the lives of two couples struggling to make sense in a world torn apart by disease, sex and religion. Set in the apocalyptic days of New York in the late eighties, Kushner's play explores threat of disease against the backdrop of American life. This production contains adult themes, strong language and sexual themes; audience discretion is advised.
2015/16
SPAMALOT
A NEW MUSICAL LOVINGLY RIPPED OFF FROM THE MOTION PICTURE MONTY PYTHON AND THE HOLY GRAIL
BOOK AND LYRICS BY ERIC IDLE MUSIC BY JOHN DU PREZ AND ERIC IDLE
DIRECTED BY ANDREW HAYES
STEVEN LINVILLE '06, MUSIC DIRECTOR
DEB GRAMMEL, CHOREOGRAPHER
OCT. 1-3 | 7:30 P.M.
OCT. 4 | 3 P.M.
Why do those knights say "Ni"? Can rabbits really kill? Can cows fly? See this and more when King Arthur and his entourage travel far and wide in search of the Holy Grail. SPAMALOT is Monty Python's loving stage tribute to their classic 1975 film Monty Python and the Holy Grail. This show is much more than a bland Disney-like adaptation. The razor-wit and dry English humor of one of the word's most famous comedy troupes is turned on the theatre and the conventions of the modern American musical. Come see a fresh take on your favorite moments from the film and a few comic surprises.
ARCADIA 
BY TOM STOPPARD
DIRECTED BY AMY HAYES
NOV. 19-21 | 7:30 P.M.
NOV. 22 | 1 P.M.
Tom Stoppard's absorbing play takes us back and forth between the centuries and explores the nature of truth and time, the difference between the Classical and the Romantic temperament, and the disruptive influence of sex on our orbits in life; "the attraction which Newton left out."
"Stoppard's warmest and most affecting play.... A prodigiously smart piece of theatre that touches on fractal geometry, gossipy speculation about Lord Byron, contemporary academic backbiting and the physics of uncertainty."
-San Francisco Chronicle
SEMINAR
BY THERESA REBECK
DIRECTED BY M. SUSAN ANTHONY
JAN. 31 - FEB. 3 | 7:30 P.M.
Seminar, a dark comedy by Pulitzer Prize nominee Theresa Rebeck, explores the lives and loves of four young aspiring writers, Jeffrey, Kate, Izzy and Martin, each of whom antes up $5,000 to pay for a private writing seminar with Leonard, a brilliant and acerbic celebrity author. As they struggle with Leonard's unusual teaching methods and often vicious criticism, they must deal with their own insecurities, fluctuating power relationships and sexual betrayals. Described as a "sparkling cocktail of ambition, power, and lust," Seminar premiered on Broadway in 2011.
Graphic language and suggestive sexual situations; recommended for mature audiences only.
ORIGINAL PLAYS BY DEPAUW STUDENT PLAYWRIGHTS
DIRECTED BY STEVE TIMM
THE PARABLE OF THE PEAR BY ZACH MANGES '16
THE VENTRILOQUIST BY BRISTY SKILES '17
THE BALLOON MAN BY BILLY BURKE '17
APRIL 14-16 | 7:30 P.M. 
APRIL 17 | 1 P.M.
DePauw Theatre's long tradition of encouraging and developing student written plays goes mainstage with these original student works. During Fall 2015 plays are conceived, written and rewritten and finally selected for production. A collaboration with faculty playwright and director Steve Timm, this evening of exciting new works celebrates the process of creating art from the germinal idea to a fully staged production.
SPRING SPECTACLE OF SHAKESPEARE
DIRECTED BY SHAKESPEARE IN THE SCHOOLS STUDENTS
PROGRAM DIRECTOR AND INSTRUCTOR OF SHAKESPEARE IN THE SCHOOLS COURSE, GIGI JENNEWEIN
MAY 7 
1 P.M. GREENCASTLE: THE TEMPEST
3 P.M. NORTH PUTNAM: THE COMEDY OF ERRORS
5 P.M. CLOVERDALE: A MIDSUMMER NIGHT'S DREAM
In its 6th year, the Spring Spectacle is a partnership between DePauw University and Putnam County schools. The program trains DPU students to direct local middle and high school students in the mounting of fully staged 90-minute Shakespeare plays.  The Spring Spectacle is inspired by and produced in association with Shakespeare & Company in Lenox, MA.
2014/15
PARADE
MUSIC AND LYRICS BY JASON ROBERT BROWN
BOOK BY ALFRED UHRY
DIRECTED BY TIM GOOD
MUSIC DIRECTION BY STEVEN LINVILLE '06
CHOREOGRAPHED BY DEBORAH GRAMMEL
OCTOBER 9-11 | 7:30 P.M.
OCTOBER 12 | 2 P.M.
The lynching of Leo Frank in 1915 by the Knights of Mary Phagan, sent shock waves through the nation, and marked the rebirth of the modern Ku Klux Klan. The musical Parade challenges the problems of anti-Semitism, racism, provincialism and blind hate, by asking us to get to know these characters as real people. The music and lyrics by Tony Award-winning composer Jason Robert Brown (The Bridges of Madison County, Songs for a New World), take you on an emotional and personal journey inside the relationships and problems of the people caught in this turmoil. Parade transcends the surface of the case, and asks us to consider whether the real evil doesn't live inside each of us.
Presented by DePauw Theatre and the School of Music with support from the Prindle Institute for Ethics and funding from the Anne Prindle Johnson and David S. Johnson Speaker Fund.
Not recommended for children under 13.
Parade is a dramatization of real-life events.These events contain heavy themes of anti-Semitism, racism and assault. This content is not a reflection of the opinions of those involved, but rather a view of historical facts. 
X ← STEVE HERE 2.0
WRITTEN AND DIRECTED BY STEVE TIMM
NOV. 20-22 | 7:30 P.M.
NOV. 23 | 1 P.M.
A follow-up to Timm's 2007 Steve Here → X, this new installment of monologues and vignettes creates portraits of individuals urgently seeking solace and meaning in the vanishing wilderness. Inspired by encounters during his sabbatical travels to the Everglades, wild rivers of Montana, isolated waterways of northern Florida and boreal forests of the north country, Timm's characters confront a variety of nightmares, fears, shortcomings and creatures – both human and non-human – on the path to discovery, strength and purpose. Some of the pieces contain adult language and situations.
LIVING DEAD IN DENMARK
BY QUI NGUYEN
DIRECTED BY ANDREW HAYES
MARCH 12-14 | 7:30 P.M.
MARCH 15 | 1 P.M.
What if Shakespeare's characters lived on … no, I mean really lived on as in becoming the undead? That fantasy is the premise of this lively contemporary mash-up of characters from Shakespeare's plays. What would happen if Ophelia and others were raised from the dead to help the humans fight a Zombie Lord? Spectacular fights and irreverent modern language frame this exploration of familiar characters in a whole new light. May the strongest characters win!
ANTIGONE
BY SOPHOCLES
DIRECTED BY CAROLINE GOOD
APRIL 16-18 | 7:30 P.M.
APRIL 19 | 3 P.M. 
Antigone is a high-stakes, driven, dense drama between the rule-followers and rebels. Antigone's choices require her to obey divine law and defy authority in order to bury her dead brother. She chooses family over the state and through her civil disobedience, she risks everything. In the ancient Greek tradition, Sophocles' play explores loyalty – loyalty to family and loyalty to the state. Antigone is an underdog fighting against the establishment, which speaks to us today just as much as it spoke to Athenian audiences over 2,000 years ago. 
SPRING SPECTACLE OF SHAKESPEARE
DIRECTED BY AMY HAYES
SATURDAY, MAY 2
2 P.M. CLOVERDALE: KING LEAR
4 P.M. NORTH PUTNAM: HAMLET
7 P.M. GREENCASTLE: TWELFTH NIGHT
The Spring Spectacle is a twelve-week collaboration between DePauw University and six Putnam County middle and high schools. Directed by teams of DePauw University students, the Spectacle culminates in four fully staged 90-minute Shakespeare plays. In part, the Spring Spectacle is inspired by and created in collaboration with our friends and colleagues at Shakespeare & Company in Lenox, MA.
2013/14
RICHARD O'BRIEN'S THE ROCKY HORROR SHOW
DIRECTED BY STEVE TIMM
OCT. 3, 7:30 PM
OCT. 4-5, 10:30 PM
OCT. 11-12, 10:30 PM
An alien transvestite/mad scientist with a sonic transducer, a ripped monster man, and a castle full of Phantoms and Transylvanians transform wholesome Brad and Janet into liberated sex fiends in Richard O'Brien's  musical celebration of 1950s sci fi movies and rock 'n roll.   The Rocky Horror Show returns to DePauw replete with local musical celebrities and plenty of gratuitous sex and violence!  So grab your fishnet stockings and look for special deals on our late night showings.  Sexually explicit material may not be appropriate for all audiences.
THE WOMEN
BY CLARE BOOTH LUCE
DIRECTED BY M. SUSAN ANTHONY
NOV. 21 - 23, 7:30 PM
NOV. 24, 1:00 PM
Poor Mary Haines. As the pampered wife of wealthy Stephen Haines and a Park Avenue socialite in 1930s New York, she believes that her life is perfect. Mary's friends, however, inform her that her husband is having an affair with Crystal, a perfume-counter salesgirl. Mary must now deal with her straying husband, his scheming mistress, and Mary's own circle of "friends," who offer loud and frequent opinions about what she should do. Written by Luce, playwright, journalist, and congresswoman, The Women is a classic of the American stage. Described as a "wicked comedy," The Women offers a biting critique of women's relationships with each other – and prompts spectators to consider the nature of happy marriages and true friends.
As the playwright stated, "The women who inspired this play deserved to be smacked across the head with a meat axe, and that, I flatter myself, is exactly what I smacked them with." – Clare Booth Luce
FALL FESTIVAL OF SHAKESPEARE AT DEPAUW
FESTIVAL DIRECTOR - AMY HAYES
ASSISTANT FESTIVAL DIRECTOR - GIGI JENNEWEIN
DEC. 13, 6 P.M. - TAMING OF THE SHREW, CLOVERDALE MIDDLE AND HIGH SCHOOLS
DEC. 13, 8 P.M. - ROMEO AND JULIET, GREENCASTLE MIDDLE AND HIGH SCHOOLS
DEC. 7, 3 P.M. - MERCHANT OF VENICE, NORTH PUTNAM MIDDLE AND HIGH SCHOOLS
DEC. 7, 5 P.M. - AS YOU LIKE IT, SOUTH PUTNAM MIDDLE AND HIGH SCHOOLS
ACHILLES/ACHILLES' SON
BY SEAN GRANEY         
DIRECTED BY TIM GOOD

JAN. 20, 7:30 PM
JAN. 26, 1:00 PM
JAN. 27-29, 7:30 PM
Achilles/Achilles' Son is Sean Graney's bold, new take on seven ancient Greek tragedies focused on the Trojan War. (Aeschylus' The Persians, Sophocles' Philoktetes and Ajax, Euripides' Iphigenia in Aulis, Rhesus, Hecuba and The Trojan Woman.) It offers a forum for exploring our current universal problems, addressing the need for citizens to be active, helpful parts of their society. 
The project mirrors Greek communal festivals, mixing theater, music, food and debate. Achilles/Achilles' Son seeks to create a micro-society, where we can discuss ethical issues raised in the play. These issues include, but are not limited to: the role of leadership, the value of life, respect for the dead, the nature of war and responsibility to family. Free food included.
THE COMEDY OF ERRORS  
BY WILLIAM SHAKESPEARE       
DIRECTED BY ANDREW HAYES
APRIL 10-12, 7:30 PM
APRIL 13, 1:00 PM
What happens when not one, but two sets of identical twins that were separated shortly after birth suddenly find themselves in the same city? Come and see. Shakespeare's first play tells the comic tale of these two sets of twins whom fate separated then reunited. In our Wild West version, the twins find themselves in the American West of the 1870's. When Antipholus and Dromio of Omaha find themselves in Monterey, California, wives mistake husbands, masters mistake servants and general mayhem ensues.
2012/13
INTO THE WOODS
MUSIC AND LYRICS BY STEPHEN SONDHEIM
BOOK BY JAMES LAPINE
DIRECTED BY TIM GOOD
MUSIC DIRECTION BY STEVEN LINVILLE '06
CHOREOGRAPHED BY DEBORAH GRAMMEL
SEPTEMBER 27-29, 2012 - 7:30 P.M.
SEPTEMBER 30, 2012 - 3 P.M.
Into the Woods starts with familiar fairy tales, such as Little Red Riding Hood and Cinderella, but very soon asks hard questions about the meaning of community, and how we treat each other. Witches can be right; Giants can be good. Supported by a full orchestra, the stirring music of Stephen Sondheim is brought to life to remind us that even though the "woods" are dark and dim, our strength lies in the fact that we all depend on you, me, her and him.
Presented through special arrangement with Music Theatre International (MTI). 
THE CRUCIBLE
WRITTEN BY ARTHUR MILLER
DIRECTED BY M. SUSAN ANTHONY
NOVEMBER 8-9, 2012 - 7:30 P.M. 
NOVEMBER 11, 2012 - 5 P.M. 
NOVEMBER 13-17 - 7:30 P.M. 
"I have given you my soul, leave me my name!" cries John Proctor, as he rages against the atrocities occurring at Salem, Massachusetts in 1692. This production will be part of a community-wide conversation centered on the question "What are you willing to put your name to?" Described as a "gripping" and "powerful drama," this Tony-award winning play depicts a dark time in colonial Massachusetts, when fear and greed incited the persecution of innocents accused of witchcraft.
Broadway star and 1958 DePauw University graduate David Cryer will portray the fiery Deputy-Governor in a production of The Crucible at his alma mater in November. Cryer and his wife, choreographer and actress Britt Swanson, will join a cast of students and local actors Larry Sutton (DePauw professor emeritus of communication and theatre) and Jack Randall Earles in the Tony Award-winning play by Arthur Miller. 
BATTLE, BABY, BIRD: NEW WORKS BY DEPAUW PLAYWRIGHTS
DIRECTED BY STEVE TIMM
MARCH 7-9, 2013 - 7:30 P.M.
MARCH 10, 2013 - 3:00 P.M. 
DePauw Theatre's long tradition of encouraging and developing student written plays goes mainstage with these original student works. During Fall 2012 plays were conceived, written and rewritten, and finally selected for production. A collaboration with faculty playwright and director Steve Timm, this evening of exciting new works celebrates the process of creating art from the germinal idea to a fully staged production.
THE HERBAL BED
WRITTEN BY PETER WHELAN
DIRECTED BY ANDREW HAYES
APRIL 11-13, 2013 - 7:30 P.M. 
APRIL 14, 2013 - 3 P.M. 
The Herbal Bed is based on actual events, which occurred in Stratford-upon-Avon in the summer of 1613, when William Shakespeare's elder daughter, Susanna Hall, was publicly accused of having a sexual liaison with a married neighbor and family friend. The New York Times writes, "… Mr. Whelan is a speculative playwright with a keen sense of history."  London's The Daily Telegraph states, "Every character comes to life and, although he doesn't appear, Shakespeare is a powerful presence… He (Whelan) writes beautifully…
THE SPRING SPECTACLE OF SHAKESPEARE AT DEPAUW
DIRECTED BY AMY HAYES
MAY 3, 2013, MOORE THEATRE, GCPA
6 P.M. MUCH ADO ABOUT NOTHING (GHS, GMS)
8 P.M. THE TEMPEST (CHS, CMS)
MAY 4, 2013, MOORE THEATRE, GCPA
6 P.M. HENRY V (SPHS, SPMS)
8 P.M. JULIUS CAESAR (NPHS, NPMS)
Initially funded by a Ball Venture Grant, this program is based on a nationally recognized and awarded program started by Shakespeare & Company in Lenox, MA. It exists to bring Shakespeare into the lives of teenagers, enabling them to experience the height and breadth of Shakespeare's emotion, characters and stories through physical and tangible performance, while empowering them with Shakespeare's language. At DePauw, we train University students to work with high school and middle school students, teaching the material in a trusting and energetic environment by going into the schools every week and shepherding the students on their own turf. The younger students learn to use and trust their bodies and their voices to these demanding and rewarding plays. The program culminates in a festival of Shakespeare performances at the end of the semester.
2011/12
URINETOWN
Music by Mark Hollmann
Lyrics by Mark Hollmann and Greg Kotis
Book by Greg Kotis
Directed by Susan Anthony
Music Direction by Steven Linville '06
The 2002 Tony award-winning Urinetown depicts the harshness of life in a society that has depleted its natural resources. Following a 20-year drought, the worldwide water shortage has led to a government ban on private toilets, and all of the "public amenities" are controlled by one powerful company that profits – by charging admission. A young hero emerges to inspire the desperate poor to rebel. Musical numbers in Urinetown parody famous songs from Broadway hits, including Les Miserables, Evita, West Side Story and Annie. One critic notes, " Of course, you're not supposed to like that title – that's part of the big, good-natured and remarkable successful joke that is Urinetown." You won't want to miss this "… terrifically spirited send-up of musicals and their conventions."
Presented through arrangement with Music Theatre International (MTI).
HEDDA GABLER
By Henrik Ibsen
Directed by Larry Sutton
In 1890 Henrik Ibsen created what many think is his most interesting and revealing study of a woman's character – Hedda Gabler. The play is traditional in structure but breaks away from overly sentimental plays of the earlier 19th century and presents a world in which traditional social convention and morality appear inconsistent and irrelevant. The character of Hedda is a study of a frustrated, isolated woman striving to assert herself and control the world around her. Although she appears clever, assured, and proud, she lacks the inner strength to live independently of the world's social and moral conventions.
Presented through arrangement with Music Theatre International (MTI).
MYSTERIES ... AND SMALLER PIECES
Collectively Created by The Living Theatre
Directed by Tim Good
Mysteries ... and Smaller Pieces is a collective creation by The Living Theatre that changed theatrical history. Mysteries is the first play to be presented on the world's major stages without fictional characters, plot, scenery or costumes. The virtually wordless composition redefines the nature of theater as pure communication between performers and audience. Relying on nonverbal sounds and improvised actions, Mysteries invokes the Dionysian sources of drama, offering the audience the opportunity of assisting in a series of rituals meant to liberate the actor's deepest resources.
The Heidi Chronicles
By Wendy Wasserstein
Directed by Andrew Hayes
What has the Women's Movement done for women? The Heidi Chronicles, the 1989 Pulitzer Prize-winning play by Wendy Wasserstein asks this and other questions by tracing the life of a female art historian. Wasserstein's main character, Heidi Holland, comes of age during the pivotal years of the Women's Movement. Through her relationships with both men and women, we watch her struggle to determine what women have really gained and at what cost. The play has a wonderful mixture of probing intellectual questions and old-fashioned theatrical humor. Come see what the New York Daily News called, "not just a funny play, but a wise one."
2010/11
GERDA'S STORY: MEMOIR OF A HOLOCAUST SURVIVOR
BASED ON THE MEMOIR OF GERDA NOTHMANN LUNER
DRAMATIZED BY TIM GOOD AND J.C. PANKRATZ '12
DIRECTED BY TIM GOOD
This moving tale is based on the authentic account of Gerda Nothmann Luner's Holocaust survival.   As a young girl, all of Gerda's hopes and dreams are forever shattered when Nazis invade her homeland.  Alone, Gerda journeys to safety by way of a foster family in Holland, experiencing arrest, deportation, and a remarkable series of circumstances that lead to her emigration to America. A post-performance discussion on Friday will feature Gerda's husband, Charles Luner.  Don't miss this extraordinary narrative of hope and courage.
MUCH ADO ABOUT NOTHING           
Written by William Shakespeare
Directed by Andrew Hayes
What happens when the battle is over and the victorious and vanquished return home?  Love, of course.  Join us for a new twist on Shakespeare's timeless comedy.  Our setting is DePauw University, 1925. Pedro, Claudio, and Benedick return to Greencastle having triumphed at Wabash in the annual Monon Bell Game.  Lucky Claudio also scores the love of the Mayor's daughter, Hero.  But Wabash's John, Pedro's brother, is a disgruntled loser in the classic rivalry, and instigates a vengeful plan to disgrace Claudio's fiancée and destroy the intended marriage. Can love triumph over deception?  Watch as the various plots twist and unravel in this comic race to happiness.
AT THE DINER
Written by Emily Terrell '11
Directed by Steve Timm
Loosely based on the Greek myth of Io, At the Diner tells the story of a young woman waitressing at a Midwest diner, who has decided to break away from her going nowhere existence and forge ahead at the life she's always wanted. Io's plans go drastically awry, however, when she becomes the prey of Zeus and nemesis of his wife, Hera.  With no recourse, Io is swiftly enveloped in the couple's tragic cycle of lust, secrecy, and revenge.  This first play by senior Emily Terrell examines the classic Greek theme of fate versus free will within an imaginative modern context.
Lady Windermere's Fan
By Oscar Wilde
Directed by M. Susan Anthony
As the play opens, the young and happily married Lady Windermere, a "good woman," receives two items for her birthday: a lovely antique fan and the startling news that her husband may be having an affair with an older woman, the beautiful and famously promiscuous Mrs. Erlynne.  But is the hold Mrs. Erylnne has on Lord Windermere of the adulterous kind? And why is she so interested in Lady Windermere? At the play's crisis, Lady Windermere has risked her reputation and her happy life to obtain revenge upon her husband, only to be saved by none other than Mrs. Erylnne, the true exemplar of a "good woman." First produced in 1892, Lady Windermere's Fan, like many of Wilde's comedies, is a stinging satire on the morals of Victorian society, particularly the institution of marriage.
2009/10
TARTUFFE
by Moliere
Directed by M. Susan Anthony
It is 1668, and Monsieur Orgon, a wealthy Parisian, has fallen under the spell of Tartuffe, a swindler who masquerades as a holy man. Although the other members of Orgon's household see Tartuffe for what he really is, Orgon dismisses their concerns and recklessly lavishes on his "holy" friend money, possessions--even his daughter in marriage. Meanwhile, Tartuffe lies, cheats, steals and does his best to seduce Orgon's wife. By the time Orgon finally recognizes his folly, it could be too late to save his fortune and his family!   Moliere's comic masterpiece so brilliantly skewers religious hypocrites that the play, when first introduced to Paris audiences, was banned for five years. Described as a "delightful romp," Tartuffe is acknowledged as one of the greatest comedies of Western literature.
EURYDICE 
by Sarah Ruhl
Directed by Gigi Jennewein Fenlon
On the day Eurydice marries her true love Orpheus, a tragic misstep sends her plummeting to the surreal depths of the Underworld.  Memories are forbidden in this world of the dead, but an unexpected reunion with her father vividly awakens Eurydice's mind to the love she felt in life.  When in his search for her, Orpheus uses his music to penetrate the gates of the Underworld, Eurydice must painfully decide whether to remain with her father or return with her earthly love.  A modern tale of love and loss, Eurydice is playwright Ruhl's imaginative interpretation of the classic Orpheus myth told from the heroine's point of view, abounding with surprising plot twists and quirky humor. 
BECAUSE THE UNIVERSE TENDS TOWARD ENTROPY
A collection of one-act plays by Chekhov, Strindberg, Picasso and Goodman
Directed by Tim Good
The horrifying things that we do to one another, and the lengths to which we go to try to repair them, take center stage in this assemblage of one-act plays from Modernist masters.  Chekhov's riotous farce, The Marriage Proposal, is followed by Strindberg's exploration of infidelity in The Stronger.  Pablo Picasso's only play, Desire Trapped by the Tail, offers a funny, abstract take on personal relationships.  The stories conclude with Dust of the Road by Kenneth Sawyer Goodman, where we encounter Judas eternally wandering the earth, trying desperately to undo the damage he has done.
POLVADERA
Written by Steve Timm
Directed by Ron Dye
During the Great Depression a young woman's hope to escape the rural Midwest for the big city is compromised when she makes a gruesome discovery in a neighbor's field. Haunted by the discovery and by her ability to witch water, she instead seeks refuge in the canyon country of southeastern Utah.  But both her past and water are relentless in pursuing her. Thirty‑five years later she's forced to return to the same field where she makes yet another terrible discovery. In this new play, Professor Timm shrewdly explores the impact of polvadera, or 'the dust we leave behind."
2008/09
EINSTEIN AND THE ROOSEVELTS
Music by Nancy Ford
Book and lyrics by Gretchen Cryer
Directed by Andrew Hayes
Written by the Broadway award-winning team and DePauw alumni Nancy Ford ('57) and Gretchen Cryer ('57), Einstein and the Roosevelts is the premiere of an inventive musical presenting some lesser-known history of one of America's most influential couples. The story takes place at an after-life birthday party thrown for Eleanor in the cosmos to which Albert Einstein has been invited to provide entertainment with a violin that summons up moments from the past. The production's imaginative revelation of buried secrets and passions promises to both entertain and educate by combining history and whimsy to illuminate the characters' past choices surrounding love, marriage, and politics during wartime.
NATURAL SELECTION
Written by Eric Coble
Directed by M. Susan Anthony
It's the very near future and humans are coping with Earth's devastation. People risk radiation poisoning when they step outdoors.  Children attend virtual school.  Friends interact via internet. Some populations, such as Native Americans, have been nearly eradicated, so representatives are displayed in "Cultural Pavilions." In seeking a genuine Indian, curator Henry Carson encounters a most charismatic and unsettling Navajo, who soon teaches everyone a few things about tolerance and borders. A dark comedy that examines our blind dependence on technology, our isolation from each other, and our detachment from our own spirituality, Natural Selection, which premiered at Actors Theatre of Louisville in 2007, is being presented in conjunction with DePauw's ArtsFest 2008:  Art & Borders. 
TWELFTH NIGHT
Written by William Shakespeare
Directed by Amy Hayes
"If music be the food of love, play on…." So begins one of Shakespeare's greatest comedies.  Part love story, part high jinks, part philosopher's musings, and part intrigue, Twelfth Night examines gender, practical joking, and the nature of true love, making us wonder if clothes really do make the man.  Collaboratively created with live music, imaginative costumes, and fast-paced hilarity, this show is a joyful romp with a romantic and moving climax.
The Who's TOMMY
Music and lyrics by Pete Townshend and Des McAnuff
Directed by Steve Timm
The Who's Tommy is a musical based on the rock opera Tommy, written and recorded by the 1960's band The Who.  The story follows the rise of the title character, Tommy, from a traumatizing childhood event that leaves him psychosomatically deaf, dumb and blind through an abusive adolescence to stardom as a world champion pinball player. This mythic tale of a young boy's journey from pain to triumph includes such classic rock singles as "See Me, Feel Me" and "Pinball Wizard" and promises to be one of the most electrifying evenings of rock and roll ever to play in the theatre.
2007/08
MEDIEVAL TALES
Directed by Andrew Hayes
The production is a collection of short works from the late Medieval/early Renaissance when theatre as we know it was beginning to reemerge in the Western world.  With the late 15th century morality play Everyman as its centerpiece, this assortment of tales explores the medieval worldview on religion and domestic life, and captures the humor, daily concerns and lifetime dreams of a continent and culture on the cusp of a multifaceted explosion.
STEVE HERE
Written and directed by Steve Timm
Based on encounters during months of backpacking and kayaking in wilderness areas across the country, this new work tells the stories of people immersed in the wild.  Common to all is the search for meaning in the struggle between life and death in the wilderness, and the challenge to find peace of mind in an environment that is both beautiful and violent. Produced in conjunction with ArtsFest 2007, the play includes excerpts from Of Wolves, Moose and Daughters, written as part of a residency at Isle Royale National Park.
CHILDREN OF EDEN
Music and Lyrics by Stephen Schwartz
Directed by Tim Good
From the composer of Wicked and Godspell comes the telling of epic stories from Genesis told through music.  In Children of Eden, Stephen Schwartz brings us the relationship of God with Eve and Adam, and the trials facing Noah's family in The Flood, in songs such as "Lost in the Wilderness", "In Whatever Time We Have," and "Spark of Creation." These tales of struggle and hope remind us that we are all still "children of Eden."
OUR TOWN
Written by Thornton Wilder
Directed by Gigi Jennewein Fenlon
In this age of cell phones, Internet and reality shows, Thornton Wilder's 1938 Pulitzer Prize-winning American classic reminds us to slow down, open our hearts and minds, and embrace the significance of our day-to-day experiences. Our Town is one of the most produced dramatic works of the 20th century, possibly because it so succinctly captures - with warmth and humor - the eternal truths of human existence.
2006/07
QUILTERS
Written by Molly Newman and Barbara Damashek
Music and lyrics by Barbara Damashek
Directed by Andrew Hayes
Quilters is a musical journey through the joys, struggles, amusements, and sorrows faced by the women who helped settle the American frontier. This intricately woven collage combines the art and craft of quilting with dance, music, and drama to tell richly-textured stories attesting to the great courage and spirit of our female ancestry. As America is largely a nation of settlers and immigrants, Quilters has the power to touch a chord in all of us. 
THE ORPHAN OF CHAO
Adapted from the folk tale by Wang Yan
New English translation by Sherry Mou
Directed by Tim Good and Sherry Mou
The laws of heaven ultimately win in this ancient Chinese story of power and revenge. When the evil General Tu-An Ku has the entire Chao clan slaughtered, several give up their own lives to assist with the rescue of the lone survivor, the title character, in the hopes that he will grow up to avenge Tu-An Ku's ruthless political persecution and clan cleansing.   Produced in conjunction with ArtsFest 2006:  Art and The Silk Road, the production is highlighted by performances in the traditional Peking Opera style.
INHERIT THE WIND
Written by Jerome Lawrence and Robert E. Lee
Directed by Steve Timm
Based on the famous "monkey trial" courtroom battle between lawyers Clarence Darrow and William Jennings Bryan during the sultry summer of 1925 in Dayton, Tennessee, this American classic weaves the gripping story of the prosecution of high school teacher John T. Scopes for his teaching of Darwin's theory of evolution against state law. Inherit the Wind has riveted stage and film audiences for over 50 years with its compelling depiction of the ongoing debate of creationism vs. evolution.
THE REAL INSPECTOR HOUND
Written by Tom Stoppard
Directed by Susan Anthony
The perfect season ender, The Real Inspector Hound is a smart and snappy lampoon of self-important theatre critics and the predictable English weekend country-house murder mystery. While reviewing the production, critics Moon and Birdboot trade pompous critiques and mourn their disappointing careers.  Soon, however, the two are swept up into the action and onto the stage, with startling (and hilarious) results. Stoppard's searing commentary and outrageous characters make for an engaging comedic romp. 
2005/06
SWEENEY TODD
Music and lyrics by Stephen Sondheim
Written by Hugh Wheeler
Directed by Susan Anthony
Step into the 19th century barbershop of Sweeney Todd, where the floor is littered with more than hair clippings as Todd's irrepressible thirst for revenge against a crooked judge has expanded to include his unfortunate customers.  Add to this the resourceful proprietress of the pie shop downstairs who soon has the people of London lining up in droves to savor her mysterious new meat pies, and you'll discover a multiple award-winning musical thriller!  At the play's premiere in 1979, The New York Times opined, "There is more artistic energy, creative personality and plain excitement than in a dozen average musicals." 
AS YOU LIKE IT
by William Shakespeare
Directed by Andrew Hayes
One of Shakespeare's greatest comedies - where anything can and does happen - is reset in America of the 1950s. His juxtaposition of town and country relations is as fresh today as it was over 400 years ago.    With power-plays, banished children, dueling brothers and misguided country-bumpkins we see truly that "all the world's a stage."
VENUS
by Suzan-Lori Parks
Directed by Gigi Jennewein Fenlon
You've never seen anything like her. She's an exotic African beauty: her dark skin, her gorgeous eyes, her full bosom. And she's a big-bottomed girl! A novelty. She'd make a splendid freak! The Hottentot Venus! Pulitzer Prize-winning author Parks has crafted Venus from the true story of Saartjie Baartmann, who was deceptively lured from her South African home to a life of exploitation and disappointment in early 19th-century London.
IN THE SILENCE YOU DON'T KNOW
by Samuel Beckett
Directed by Tim Good 
Six short plays. 4 with no words.  1 with no actors. 1 with just heads sticking out of urns. Sample the existential world of the Nobel Prize-winning author of Waiting for Godot, Irish playwright Samuel Beckett. When it's quiet, with the silence screaming in your ears, you see the bleakness, the pointless vacuum of nothingness before you, and you go on anyway…