It's Easy to Apply to the Media Fellows Program!
In order to be considered for the Media Fellows Program, you must complete a special application essay question in addition to your regular application to DePauw.
Decisions on admission to the Media Fellows program are made based on the quality of your application essay and a personal interview with members of the faculty governing board for Media Fellows. These interviews are particularly important and will be scheduled on request or in the spring after all written applications are received. Because the program admits a limited number of students per class, admission is very competitive.
Application Steps
Fullest consideration due dates and Honors admission decision timelines:
- Apply by November 1; notification by December 15
- Apply by December 1; notification by January 15
- Apply by January 1; notification by February 15
- Apply by February 1; notification by March 15
Step 1. Complete an online application to DePauw University here.
Upon receipt of your DePauw Application, you will receive an email with a username and temporary PIN that allows you to launch your student Tiger Portal and create a new password of your choice. This is the username and password you will use to submit your Media Fellow application.
Step 2. Write an essay of approximately 750 words following the prompt below.
"What have you done and read in your high school years that has prepared you to understand the problems and the promise of the media? Incorporate an article or book you would like to talk about during an interview for this program that has most influenced your view of the media."
You will be directed to log into your student Tiger Portal from Step 1 above. Should you encounter any problems, please send your essay (Word document or pdf) directly to Marilyn Culler at mculler@depauw.edu.
Lateral Application
The application deadline for current DePauw students wishing to enter the program in 2022-23 as sophomores is May 1, 2022
Step 1. Complete the Lateral Application to Media Fellows here.
Step 2. Return the completed form to Dr. Jonathan Nichols Pethick in the Pulliam Center for Contemporary Media.
Additional Contact Information
---
Media Fellows Program
Eugene S. Pulliam
Center for Contemporary Media
609 S. Locust
DePauw University
Greencastle, IN 46135
Phone: 765-658-4475
Fax: 765-658-4455

Office of Admission
DePauw University
204 E. Seminary Street
P.O. Box 37
Greencastle, IN 46135
Phone: 800-447-2495
Fax: 765-658-4007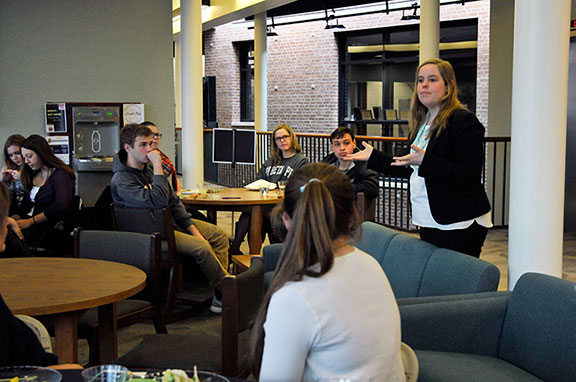 Bess Evans '07, Associate Director of Social Engagement at the White House, spoke
to current and prospective Media Fellows on Monday, March 7, 2016 about
how the program helped her career