About the Program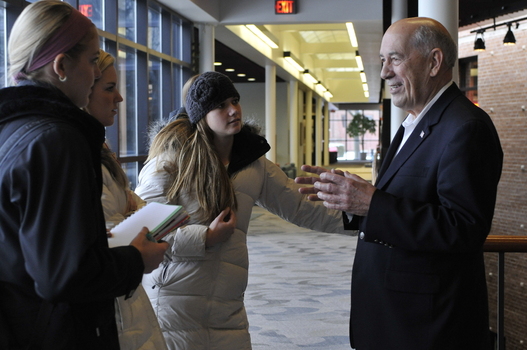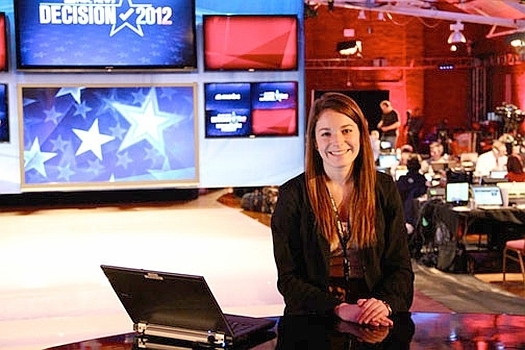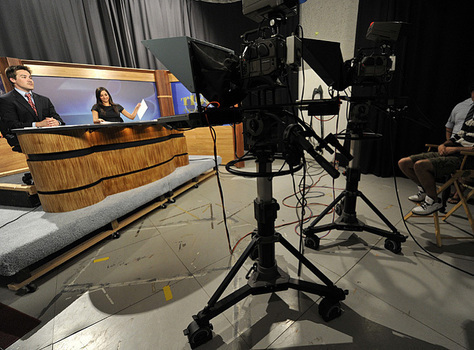 A Four-Year Plan
---
The Media Fellows Program is a four-year plan designed to complement your academic development at DePauw University.
| | |
| --- | --- |
| | Two first-year seminars lay the foundation for the study and practice of media in their various forms (print, radio, TV, advertising, public relations, etc.). |
| | Throughout the sophomore year, Media Fellows attend a luncheon series to prepare students for internships, take additional courses that complement their study of the media, and complete client-based projects that prepare them for the kind of work they will encounter at internships. |
| | During the junior year, Media Fellows complete a semester-long, full-credit professional internship in a media setting such as a newspaper, production company, marketing agency, entertainment program, or public relations office. |
| | Finally, in the senior year, Media Fellows complete a capstone project that offers an opportunity for in-depth research, completing the Media Fellows experience and leading to the next step in their careers. |
Additional Components
Throughout their four years at DePauw, Media Fellows spend at least four semesters working in one of the student media (The DePauw, WGRE, or D3TV).
Each semester, Media Fellows attend special lectures, luncheons and seminars sponsored by the Media Fellows program and the Pulliam Center for Contemporary Media.
Media Fellows also choose two full-credit media-related courses — one emphasizing the process side of media, the other analytical (see below) — to complete by their senior year, and an independent reading course while on their media internship. Only one of these courses can be in your major.
Process

Analytical

ARTS 160 – Introduction to Digital Art
ARTS 163, 263. 363 – Photography I, II, III
ARTS 165, 265, 365 – Video Art I, II, III
COMM 235 – Electronic Journalism
COMM 236 – Television Production and Televisual Literacy
COMM 319 – Writing for Stage, Screen, and TV
ENG 201 – Creative Writing
ENG 232 – News Writing
ENG 321, 322 – Non- Fiction Writing I, II
ENG 331, 332 – Advanced Reporting I, II
ENG 342 – Screenwriting

FILM 231 - Topics in Digital Film Production

FILM 331 - Advanced Topics in Digital Film Production




ARTH 250/FILM 211 - Documentary Film
ASIA 250 – China on Screen
COMM 233 – Media, Culture & Soc.
COMM 237/FILM 200 – Film and Culture
COMM 334 – Media Criticism
COMM 335 – Media Law
COMM 337 – Global Media
ENG 167/FILM 100 – Intro to Film
ENG 255 – Topics in Literary Studies (as appropriate by topic)
FILM 220 – Topics in Film Studies
FILM 241 – Topics in Film Cultures & Traditions (ML 164, ENG 255, COMM 299)
FILM 310 – Film Theory (COMM 401, ENG 395)
FILM 311 – Topics in Gender, Sexuality, and Film (ENG 390, COMM 401)
REL 275 – Religion and Film
SOC 340 – Sociology of Popular Culture
Common Questions
---
Q: Will Media Fellows be my major or minor?
A: Neither. Media Fellows students may choose any major within the university, from art to women's studies. Instead of a major or minor, the Media Fellows program is a concentrated study of media designed to complement your other studies throughout your time at DePauw.
Q: Why doesn't DePauw have a journalism major?
A: Media professionals need a broad understanding of the world that they seek to reflect to their readers, viewers and listeners. While many universities have excellent journalism programs, a Media Fellows program that combines the liberal arts, journalism classes and practical experiences in media prepares a future media practitioner more comprehensively than does a journalism major alone.
Q: I've been accepted by DePauw, but not the Media Fellows program. May I re-apply next year?
A: Yes. You may reapply during your first year at DePauw to be eligible for reconsideration as a sophomore. Meanwhile, any DePauw student has access to all of the Pulliam Center for Contemporary Media facility and programs, including working on campus media and taking part in seminars and conferences on media issues.


Meet the Directors
---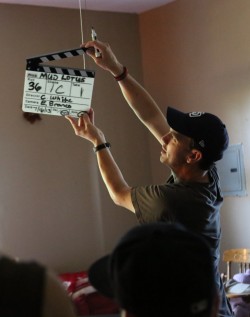 Jonathan Nichols-Pethick

Professor of Communication and Theatre Jonathan Nichols-Pethick is director of the Media Fellows Program at DePauw University.
Dr. Nichols-Pethick earned a Ph.D. in communication and culture from Indiana University and joined the DePauw faculty in 2002. He has taught courses in film and media, ranging from media history and criticism to television production and directed the film studies program at DePauw for six years. He has also served on the advisory committee for the Janet Prindle Institute for Ethics.
Nichols-Pethick is an authority on television police dramas. He authored the book TV Cops: The American Television Police Drama (Routledge 2012) and has written essays which have been published in Cinema Journal, The Velvet Light Trap, FLOW-TV, and the anthology Beyond Prime Time (Routledge 2009). He is the producer and host of the podcast, Modern Media, and produced and edited a short film, Mud Lotus (which was written and directed by DePauw English Professor Chris White) in 2013.
Prior to embarking on an academic career, Jonathan worked as a musician and as an associate producer of the morning news program at WCSH-TV, the NBC affiliate in Portland, Maine.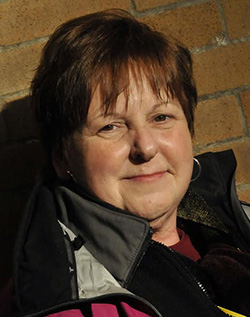 Marilyn Culler
Marilyn Culler is the associate director of the Media Fellows program at DePauw University.
Culler received her BA in English from Millersville University in 1979, and her MA in Journalism in 1986 from Ball State University. She has worked as a professional photographer with the Indiana Department of Natural Resources, an Information Specialist with the Indiana Law Enforcement Academy, Academic Coordinator for the DePauw School of Music and DePauw University Photographer.
Through her work at the PCCM, Culler is involved in all aspects of the administration of the Media Fellows Program. She continues to work as a freelance photographer, and is a member of the National Press Photographers Association.
More about Media Fellows
---