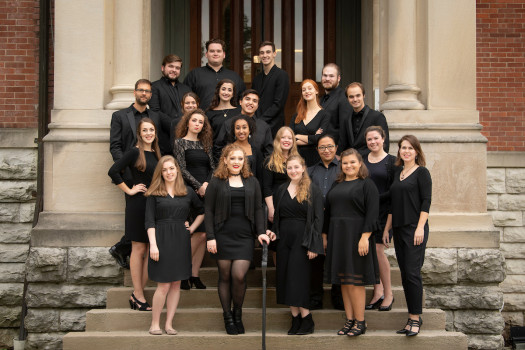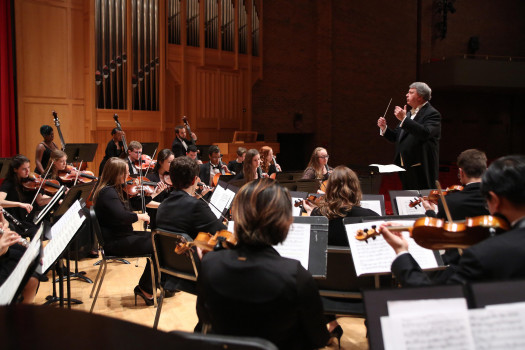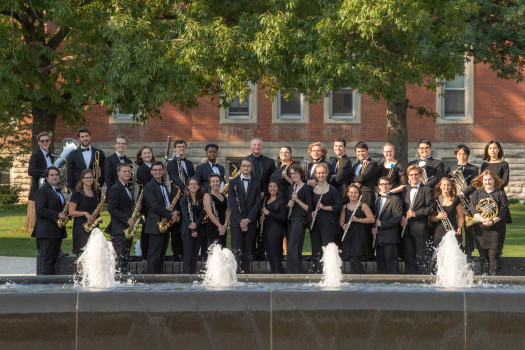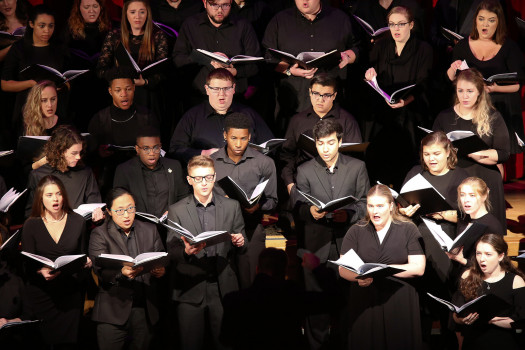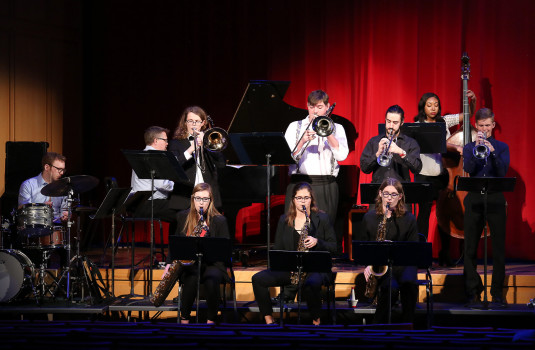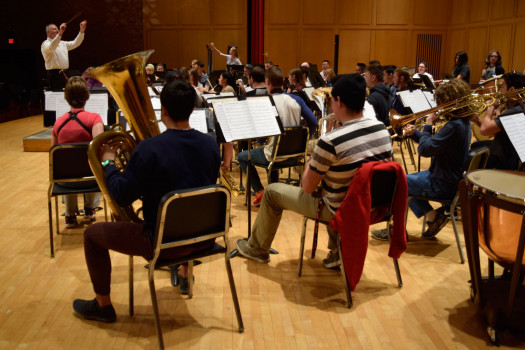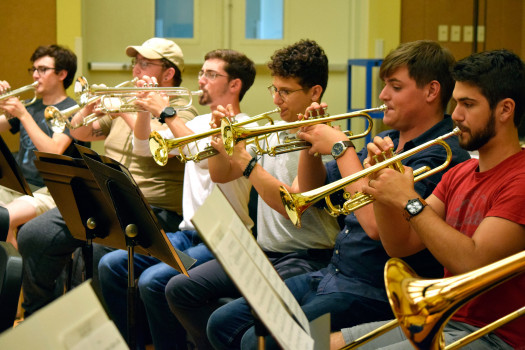 The School of Music offers a wide variety of chamber and large ensemble opportunities, as well as ensembles formed by students themselves. It is not unusual for music students to participate in more than one ensemble. Choral and instrumental ensembles are open to every DePauw student by audition.
DePauw Jazz Ensemble
The DePauw Jazz Ensemble performs on campus and in concert venues throughout Indiana, including combo performances in club settings. Leading artists regularly visit campus to perform with our ensembles and give master classes, all of which are open to all students regardless of major. Guest artists have included Pharez Whitted, Eddie Henderson, Jon Fedchock, Brad Leali, Jamey Aebersold, Jackie Allen, Lynne Arriale, Reggie Workman, and Joe Lovano, among many others.
DePauw University Band
The University Band is a select ensemble of woodwind, brass and percussion musicians chosen by audition. Repertoire is selected from a wide variety of high-quality concert literature for both symphonic band and wind ensemble. Known for its acclaimed commercial recordings through its CD Recording Project, the University Band has hosted a variety of renowned guest musicians, conductors and composers including Joseph Schwantner, John Corigliano, Roberto Sierra, Augusta Read Thomas, Chen Yi, Christopher Theofanidis, James Beckel, Eugene Migliaro Corproron, Roby George and John Lynch.
e
DePauw Symphonic Band
The Symphonic Band provides playing experiences for College of Liberal Arts majors, and School of Music majors who want to improve their technique and skills on secondary woodwind, brass, and percussion instruments. The mission of the Symphonic Band is to create maximum enjoyment with limited performance demands for students who wish to continue to perform in a large ensemble as part of their collegiate educational experience. Auditions to join the Symphonic Band are not required, but are held for chair placements and part assignments.
e
DePauw University Orchestra
The DePauw University Orchestra focuses on performing standard repertoire, creating a four-year overview that is a cross-section of music including most style periods, regional influences and genres. The orchestra performs concerts – often broadcast live on WGRE-FM and the Internet – and plays for DePauw Opera productions, accompanies student concerto winners, and performs with the University's choirs, faculty and guest soloists.
DePauw Chamber Singers (SATB) and Vox Animae (SSAA)
Both of these advanced ensembles are open to any student at DePauw regardless of major, but require an audition to participate. Each group rehearses three times per week for 50 min and performs several times a semester. The challenging repertoire facilitates the development of skills necessary in becoming an advanced choral singer and musician
e
DePauw Festival Choir
No audition and no choral experience is required to join. Ayone who likes to sing regardless of skill level is welcome to this non-auditioned large community group! The choir rehearses on Tuesday nights from 7 – 9 pm (Kresge Auditorium, GCPA) and consists of students, faculty/staff members as well as residents of the Greencastle and Putnam County community. Performances include all the main choir concerts and the School of Music Holiday Gala.