ESPN2 Features DePauw's National Champion Women's Basketball Team
July 27, 2007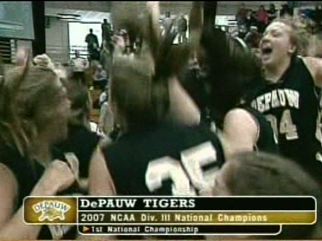 July 27, 2007, Greencastle, Ind. - More than four months after earning their crown as the 2007 champions of NCAA Division III, members of DePauw University's women's basketball team are back in the national spotlight today. ESPN2 featured highlights from DePauw's 55-52 victory over Washington University (St. Louis) in a special program which celebrated the champions of the NCAA. As the network points out, senior Liz Bondi was named the tournament's most valuable player. The triumph earned DePauw the first team national championship in the University's 170-yeat history.
See the video here:

[Download Video: "Champions on ESPN2" - 2810kb].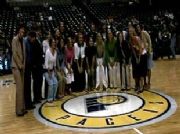 The women's basketball team, which finished the season with a 31-3 record, was honored by the NBA's Indiana Pacers on April 18. More coverage of the the March 17 championship game -- including highlights -- can be found in this previous story.
You can also visit the team online.
Source: ESPN2
Back