Prof. Emeritus Bob Weiss Receives 2007 E.R. Nichols Award
November 27, 2007
November 27, 2007, Greencastle, Ind. - Robert O. Weiss, professor emeritus of communication and theatre at DePauw University, is the recipient of the 2007 E.R. Nichols Award for "outstanding contributions to the furtherance of the forensics discipline." The award was announced November 16 in Chicago by Pi Kappa Delta, recognition society in intercollegiate debate and speech competition.
Dr. Weiss was director of the intercollegiate debate program and adviser of the debate society for 41 years at DePauw. He served as the national president of Delta Sigma Rho-Tau Kappa Alpha, honor society in forensics,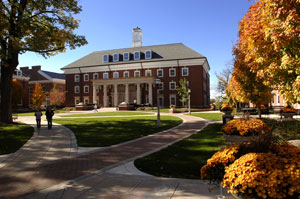 from 1983-85, and is author of a 1995 book on debate theory, Public Argument.
Bob Weiss, who taught at the University from 1955 to 1997, was the 1995 recipient of DePauw's Tucker Distinguished Career Award.
In 1962, the professor and a team of four DePauw students he coached became the talk of the nation when they were crowned champions of television's GE College Bowl. Details can be found in this previous story.
Back