"The World Needs DePauw," President-Elect Brian Casey Tells Alumni Celebration
June 14, 2008

[Download Audio: "President-Elect Brian W. Casey's Complete Address" - 8219kb]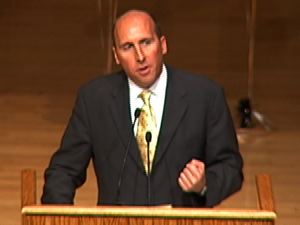 June 14, 2008, Greencastle, Ind. -

[Download Video: "The Strongest DePauw Possible" - 1210kb] "As the next president of this University, I'm going to ask constantly whether we are all doing all that we can to ensure that this is the strongest DePauw possible," Brian W. Casey told alumni at this morning's Alumni Reunion Celebration. Speaking 16 days before he'll officially begin his duties as DePauw's nineteenth president, Dr. Casey provided the crowd of about 1,000 with a welcome back to campus, an affirmation and appreciation of the University's traditions, and a peek into what his presidency will bring.
Casey comes to DePauw from Harvard University, where he was associate dean for academic affairs in the Faculty of Arts and Sciences. The selection of Dr. Casey was announced February 21 after an international presidential search. Before working at Harvard, Casey served as assistant provost at Brown University and taught at both institutions. The captain of the swimming team as an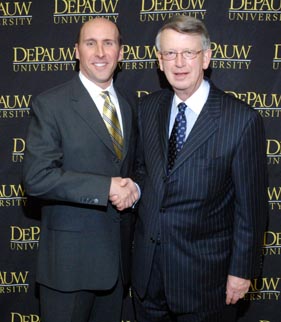 undergraduate at the University of Notre Dame, Casey earned his law degree from Stanford and worked as a Wall Street attorney before taking his first position in the world of higher education. He will succeed Robert G. Bottoms, who is stepping down after leading DePauw since 1986.

[Download Video: "Different Journeys" - 923kb] "We are gathered here today after traveling very different journeys," Casey noted. "You are returning to a place you love, and I'm just arriving at a place I'm beginning to know. You are drawing back to you all the memories of your time here, and I am just now putting together a picture of an institution I'm about to serve. You have the opportunity to reminisce, while I am just gathering first impressions."
DePauw, says the incoming president, has a "deep sense of its past," and its 171 years of traditions are the envy of many other American institutions of higher learning. "The past informs us, it enriches us, it offers us perspective," Casey asserted. "It is the source of wisdom. DePauw can and must draw on its great and long past, and please know that I will."
Dr. Casey called DePauw "an institution that embraces and defends the idea of a liberal arts education," which the new president calls "a tough challenge today. There are in this country,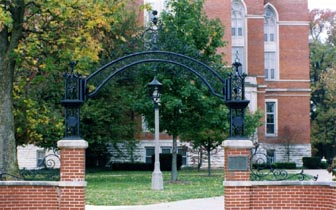 in the midst of 4,000 institutions of higher education, just about 200 true residential liberal arts colleges" which are, in his words, "vital to this nation.".
Casey continued, "Coming from Harvard, I can tell you that the great liberal arts colleges serve as a constant reminder that despite Harvard's and Northwestern and the University of Chicago's billions of dollars in endowment, despite their large faculties and large science buildings, their approach is not the only way." He declared, "It is the DePauws that provide the first intense learning community for so many college students and an education grounded in the notion of the liberal arts. These are the places where students know each other, where faculty know students, where students sit in smaller classrooms and seminar rooms and laboratories built just for them. It is here they encounter the timeless questions, and they encounter them personally."
The new president says he's "come to know of the DePauw type. DePauw is one of those rare places that attracts and trains students who have multiple talents. The classic DePauw student is not just the class valedictorian, but the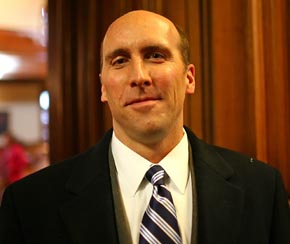 valedictorian who was also the team captain, or the student body president, or the community service leader. DePauw students are social and they are welcome; they are open to each other and they are open to the world." Casey added, "It'll be my job to push these wonderful students."
Dr. Casey asked, "Are we truly attracting the best students in the nation and in the world? Are we hiring and promoting the great teachers and supporting them in the ways that outstanding colleges do? Are we managing our considerable resources wisely? Is this campus as beautiful and as energizing as it can be? Are we enriching Greencastle and is it enriching us? Do we know what we are?"
Casey called upon alumni to share their thoughts of "what DePauw can and should be." He stated, "DePauw is a conversation. DePauw is an idea. DePauw is a community of learners and leaders who gather in Indiana. But we also gather in Chicago, we gather in New York and London and in Beijing. DePauw is about living a rich and intelligent and meaningful life. When we gather as alumni and as friends we're engaging in this necessary continuing conversation. So coming to alumni weekend is not a small act or merely a social one: you were shaped here; you entered the larger world by coming to this campus. So by being here, you are saying to those of us on the stage and in this audience who work here and to the faculty who teach here that we must continue to shape the current generation of students and the next with the same love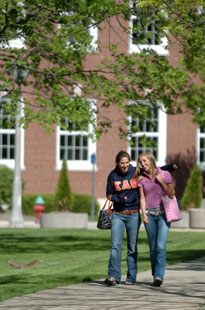 and the same intensity that you recall of your time here."
The president-elect, whose speech generated a standing ovation that lasted almost a minute, told today's gathering,

[Download Video: "A Compelling Story" - 903kb] "The world needs DePauw, and I mean that with a deep and truly heartfelt certainty. There are a small number of truly compelling educational institutions in this country. This is one. But together we must make sure that we continue to strengthen this place, to make the conversation that is a DePauw education richer, broader, open to the world."
The complete text of Dr. Casey's address is available at College News.org.
Alumni Reunion Weekend continues through tomorrow. Get more information and a schedule of events by clicking here.
Back