DePauw and Wabash Battle to Another Scoreless Tie
October 13, 1911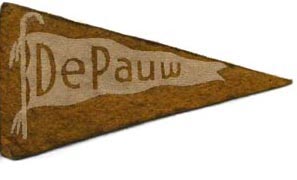 October 13, 1911, Crawfordsville, Ind. - DePauw University fans who made the train trip to Crawfordsville for today's football game with Wabash College saw a tough battle, but the rivalry game again ended in a scoreless tie. Wabash's Kent "Skeet" Lambert uncharacteristically missed all seven drop kicks he attempted, and DePauw recovered a Wabash fumble at the visitors' three yard line just before time expired to keep the Little Giants off the scoreboard.
Today's gridiron clash marked the first DePauw-Wabash football game since the 1909 contest, which also ended 0-0. Last year's scheduled matchup was canceled after Wabash player Ralph "Sap" Wilson died from injuries he sustained in the Little Giants' win over St. Louis, and the team opted not to play its remaining games. (at right: DePauw's 1911 varsity football team)
View a "Monon Memory" that tells the story of the 1911 rivalry game, as well as the tragedy of the season before, here:

[Download Video: "1911 Monon Memory" -
2838kb]. A complete roster of the video clips -- written, produced and narrated by 1982 DePauw graduate Ken Owen -- can be accessed by clicking here.
For comprehensive information on one of America's greatest and longest-running college football rivalries -- which in 1932 introduced a 300-pound locomotive bell as its prize -- visit the Monon Bell Web page.
Back