Washington Post Features "Family Gift" of FOX's Bret Baier '92
August 1, 2008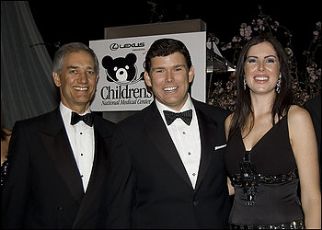 August 1, 2008, Greencastle, Ind. - "The day his son was born -- June 29, 2007 -- was one of the happiest of Bret Baier's life," begins a story in today's Washington Post on the 1992 DePauw University graduate. "One day later, the FOX News White House correspondent discovered that the baby had five life-threatening congenital heart defects. His father-in-law turned to him and said, 'You've found your cause.' Paul Francis Baier is now a bouncing 13-mouth-old with a mighty grateful family: Children's National Medical Center announced yesterday that Baier, his wife, Amy, and in-laws Paul and Barbara Hills have donated $1 million to the hospital." (photo, l-r: cardiologist Richard Jonas, Bret and Amy Baier)
"It's our family's gift," Bret Baier tells the newspaper. "We're fortunate to be in the position to give back to a place that has done so much for us."
The Post notes, "In his short life, Paul Baier has had two open-heart surgeries and two angioplasties ... The Baiers spent more than two months at the center, which persuaded them to make children's heart research and technology the focus of their philanthropy."
"One out of 100 kids has some kind of heart defect," points out Baier, who double majored in English composition and political science at DePauw.
The item adds, "Part of the $1 million donation goes to establish a high-tech media room that will allow doctors to consult from all over the world; the balance will support [pediatric cardiologist Richard] Jonas's research on preventing brain damage during surgery."
Read more at the Post's Web site.
Bret Baier presented a Crain Lecture at his alma mater in March, in which he praised the virtues of a DePauw education. A story with audio clips can be accessed here.
Baier will return to DePauw next month for DePauw Discourse 2008: America's Role in the World.
Back