Indianapolis Teacher Wins DePauw's Battey National Educator of the Year Award
April 16, 2009
April 16, 2009, Greencastle, Ind. — Andrew Goodwin, a Spanish teacher at Covenant Christian High School in Indianapolis, is the 2009 recipient of the Battey National Educator of the Year Award. Administered by DePauw University's Honor Scholar Program, the Battey Award recognizes a teacher who inspired a current DePauw Honor Scholar while that student was attending a high school, middle school or elementary school. Goodwin (seen at left) was nominated by Todd Schmid, a current DePauw senior (pictured below right).
The Battey National Educator Award provides a $6,650 honorarium for Goodwin and a $2,850 grant for Covenant Christian to be applied, with suggestions from the winner, to programs at the school. The award will be presented to the teacher tomorrow.
A gift by Charles and Joan (Westmen) Battey created the endowment which funds the new award. Mrs. Battey is a 1954 graduate of DePauw.
"My Spanish education soared through Goodwin's meticulous planning, and tireless commitment to intellectual curiosity," Schmid wrote in his letter of nomination. "Spanish was the language spoken in his classroom: all-immersion, all the time, with no exceptions. It was in this language that he
asked us whether it was Don Quixote, or the world, that was crazy. But he also gave me wings to travel and to cross borders -- geographically and linguistically ... Wrestling through the pages of Carlos Fuentes' The Buried Mirror, through Chicano short stories, through the politics of Latin America, we worked to build a bridge across the linguistic Rubicon between my English-speaking world and my growing Hispanophilia. His classroom, adorned with the Spanish flag and Mexican soccer memorabilia, became the other side of that bridge, where English was left at the border."
Goodwin's immersive lessons included the singing of Spanish folk songs and salsa dancing, and life lessons. "Goodwin's heart beats for the poor Latino families of Indianapolis, and he ensured that we understood the fundamental relationship building aspect of languages with a substantial community service involvement," notes Schmid, who taught English as a Second Language courses, served meals to Latino families and served as an interpreter, and took part in a can drive for an urban church. "I learned through Goodwin that languages are essentially media for discovering windows into the lives of others through committed human relationships," the student declares.
"We still meet in those early, merciless Indiana mornings, speaking English only to order coffee," Schimd says of Goodwin. "He is a lifetime teacher, mentor and friend -- the quintessence of the Battey National Educator Award."
Brian Hudson, CEO of Covenant Christian High School, calls Andrew Goodwin -- who has taught at the school since 1998 and is an adjunct professor at Indiana University - Purdue University at Indianapolis (IUPUI) -- "not just a great teacher, but truly one of the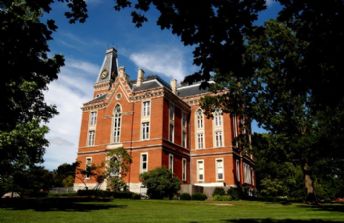 best I've ever seen." He adds, "Mr. Goodwin's Spanish classes are not only for the students with an aptitude for language but for everyone. He creates such an atmosphere of encouragement, acceptance and excellence that even students who are not linguistically inclined enjoy his courses." Hudson concludes that Goodwin "has impacted more lives than he will ever know."
"I am so humbled by the honor of having received the Battey National Educator Award," says Andy Goodwin, adding, "Todd Schmid continues to amaze and to bless."
Gregory Lewis, a social studies teacher at Indiana's Columbus East High School, won the inaugural Battey Award last year. Learn more in this story.
Back