NBC's Today Features Professor's Research on Smiling and Divorce
April 16, 2009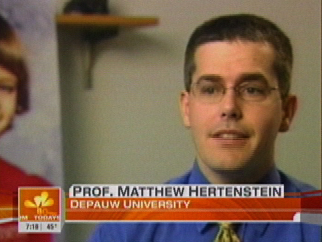 April 16, 2009, Greencastle, Ind. —

[Download Video: "Prof. Hertenstein on Today" - 1504kb] "Look at the smiles. Scientists at DePauw University did -- looked closely at the intensity of them in people's early photos," Michelle Kosinski reported on NBC's Today this morning. The team of researchers led by Matt Hertenstein, associate professor of psychology, "found a link between weak smiles and divorce."
"Those who smiled least, compared to those who smiled most, were actually five times more likely to be divorced at some point in their life," Dr. Hertenstein told the news program.
Kosinski adds, "The big toothy smilers had happier, most lasting marriages ... It's about displaying emotionality. Prior studies have shown it affects us throughout our lives, including relationships."
In the introduction to the piece, Today co-anchor Meredith Vieira asked viewers, "Ever wonder if the person that you're dating or are already married to will make you happy in the long run? Well, you might want to break out your partner's family photo album."
After the piece aired, Vieira, Matt Lauer, Ann Curry and Al Roker had a humorous exchange.
Video of the complete report can be found at the TV program's Web site.
The research is published in the journal Motivation and Emotion, and was authored by Professor Hertenstein (pictured at right in his office being interviewed by Today yesterday); Carrie A. Hansel, formerly research coordinator at DePauw's Emotion Lab and 1993 graduate of the University; and 2008 DePauw graduates Alissa M. Butts and Sarah N. Hile, who were students of the professor.
Their work has been carried by news organizations around the world this week. The item first appeared Tuesday in British media outlets and spread to U.S. news organizations, including United Press International and Yahoo!. Indianapolis
ABC affiliate WRTV is on campus this morning covering the story.
Learn more in this article.
Last month, Matt Hertenstein authored a newspaper op-ed column which examined the downsides of American society's increasing discouragement of touch.
Research conducted by Hertenstein and his students at DePauw has previously been featured in American Baby and Prevention magazines, on the Canadian Broadcasting Corporation's program, The Nature of Things, in Sunrise magazine and the Toronto Sun, and on National Public Radio.
Visit Dr. Hertenstein's Emotion Lab online by clicking here.
Source: Today/NBC News
Back