Amanda Gebert '08 Will Teach in France Under International Grant
July 28, 2009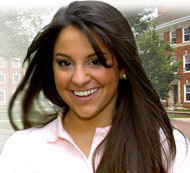 July 28, 2009, Greencastle, Ind. — Amanda J. Gebert, a 2008 graduate of DePauw University, will spend the coming academic year on a teaching assistantship in France as a result of receiving an international graduate study and research grant from the French government and the Institute of International Education. IIE, which administers the Fulbright U.S. Student Program, made this award based on the strength of Gebert's application.
Six members of the DePauw community to receive an award through the Fulbright application process since spring. Anne M. Schaufele, a 2007 graduate of the University, will conduct research in El Salvador. Four May 2009 graduates of the University also received Fulbright grants: Jessica V. Strong, will conduct research in Germany on "The Effects of Music on Individuals with Dementia and Depression"; Ross A. Robinson will spend the next academic year in Germany teaching English to young people. Lauren A. Wendling plans to travel to South Korea through an English Teaching Assistantship. Todd J. Schmid will spend a year conducting research in Paraguay as a result of receiving an international graduate study and research grant. Rebecca L. Upton, associate professor of sociology and

anthropology and director of conflict studies at DePauw, will conduct research at the HIV/AIDS Centre at the University of Botswana in Gaborone, Botswana.
A double major in English (literature) and French, Gebert was an Honor Scholar at DePauw and graduated summa cum laude. It is her goal to "help French students learn a language and a culture other than their own," she wrote in her application. "I want to teach them about English and about America, about our countries' similarities and differences. I also want to teach them about themselves." She declared, "I believe that I can make a difference as a teaching assistant in France, and I hope that I will be able to inspire my students to make a difference as well. It is my goal to help French students understand America better when I leave than they did before I arrived and to promote their future involvement in American culture and the English language."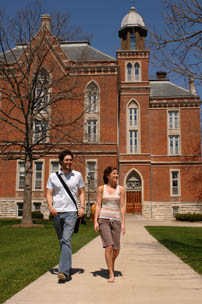 "Amanda's double major at DePauw, combined with her one semester study abroad experience in France, have prepared her well for an ETA in France," says Douglas E. Harms, Herrick E.H. Greenleaf Professor of Computer Science and the University's Fulbright Program Adviser. "She has experience successfully working with children in several contexts. She has spent much time thinking about teaching and what makes a good teacher, and this has resulted in a clear and vivid teaching philosophy. She loves language and children and her passion for both is contagious. Amanda loves working and communicating with people, is patient and hardworking. She understands and appreciates the challenges and rewards of teaching in French priority education schools. I am impressed with her eloquence, thoughtfulness, and enthusiasm for teaching in France. She is a stellar student who has nicely linked personal experience with this project. She strives to motivate students by working hard for them and earning their respect."
The Fulbright U.S. Student Program is the largest American international exchange program offering opportunities for students and young professionals to undertake international graduate study, advanced research, university teaching, and teaching in elementary and secondary schools worldwide.
To contact Dr. Harms, the recipient of a Fulbright Award for the 2004-05 academic year, send an e-mail to dharms@depauw.edu.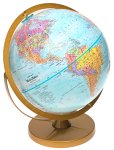 DePauw University is among the "Top Producers of Fulbright Awards for U.S. Students, 2008-09" according to a chart published in the October 24, 2008 edition of the Chronicle of Higher Education. The publication notes that three 2008 DePauw graduates received Fulbright Awards to study and live abroad for a year, and that 17 students at the University applied for the prestigious grants.
DePauw also ranks among the top 10 baccalaureate institutions in the nation for the total number of students who studied abroad in 2006-07, according to the 2008 Open Doors report. Learn more in this story.
Back