Posse Scholar Noted in National AP Story
November 15, 2009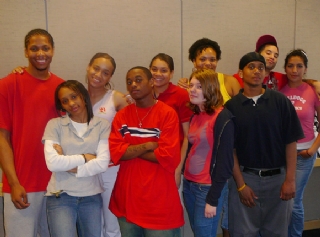 November 15, 2009, Greencastle, Ind. — "Matt Rivera, 20, said his posse helped him and other members through the culture shock of leaving their Chicago-area homes for selective DePauw University," writes the Associated Press' Kathy Matheson. Rivera, a DePauw sophomore, is cited in a nationally distributed story which points out that posses like Rivera's "is one of dozens sent to top-tier universities each year by the New York-based Posse Foundation. The combination of monetary and social support is a model that experts say could help move the U.S. toward President Barack Obama's goal of having America lead the world in the percentage of college graduates by 2020. Next fall, the program hits the Ivy League when it debuts at Penn." (photo, DePauw's Chicago Posse 7: back row, from left - Donta Goodwin, Ava Roebuck, Kristin Hayes, Leila Patterson, Matthew Rivera, Samantha Sosa; front row, from left - Rosa Torres, Isaiah Miller, Ashley Slupski, Michael Pace)
The Posse Foundation identifies public high school students with extraordinary academic and leadership potential, who may be overlooked by the traditional college selection process. The Foundation extends to these students the opportunity to pursue personal achievement and academic excellence by placing them in supportive, multi-cultural teams ("posses") of 10 students. DePauw hosts two Posses each year -- one from New York City and the other from Chicago -- and has been a Posse partner since 1996.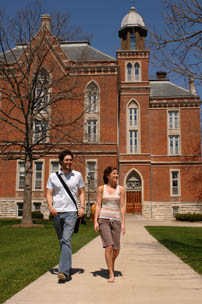 Matheson reports, "Both DePauw and Bryn Mawr say Posse students are active campus leaders and have graduation rates on par with or higher than that of the general student body. Overall, Posse officials say their students have a 90 percent graduation rate, compared with a 58 percent rate nationwide for bachelor's degrees within six years."
According to Posse founder Deborah Bial, "We're creating a new kind of leadership network in the United States," adding that her program assists young people who represent the real diversity of this country."
Read more at the Web site of USA Today.
In May 2008, Debbie Bial joined DePauw's eighteenth president, Robert Bottoms, in providing the principal address at DePauw's commencement and was presented with the McNaughton Medal for Public Service.
Back