HDNet to Remain Home of Monon Bell Classic Telecasts
July 13, 2010

[Download Video: "Ballad of the Monon Bell - 2007 Version" - 10,419kb]

[Download Audio: "Ballad of the Monon Bell - Stereo" - 2514kb].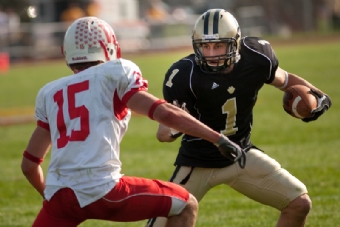 July 13, 2010, Greencastle, Ind. — One of America's oldest college football rivalries, and perhaps the closest -- the annual battle for the Monon Bell between DePauw University and Wabash College -- will again be seen nationally on HDNet. The two institutions and the national high definition television network have agreed on a new three-year contract which calls for HDNet to broadcast the November 13, 2010 contest from Wabash's Hollett Little Giant Stadium as well as the 2011 and 2012 games.
HDNet has televised the last four Wabash-DePauw contests (2006-09) and also covered the 2003 game.

[Download Video: "2008 Monon Memory" - 411kb]

The rivalry began in 1890. By virtue of Wabash's 32-19 triumph in last November's matchup, the Little Giants have a slim one game advantage in the all-time series, 54-53-9. DePauw leads in games played since the Monon Bell was introduced in 1932 as the winners' prize by a 37-35-6 count.

[Download Video: "2009 Monon Memory" - 10,311kb]
"Rivalries don't get any closer than this, especially after 116 games, and the Monon Bell is a truly special event," says Mark Cuban, president and co-founder of HDNet. "I'm thrilled that we're able to continue our partnership with DePauw and Wabash, and ensure continuity for our viewers and keep a great college football rivalry on the HDNet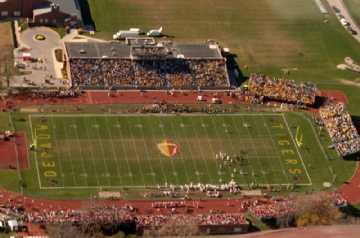 program schedule."

[Download Video: "1932 Monon Memory" - 3518kb]
"I can't say enough about the quality of the work Darrell Ewalt (executive producer of sports for HDNet) and his team do year after year," adds Ken Owen '82, executive director of media relations at DePauw. "This is great news for the alumni who gather at telecast parties in more than 60 cities, the thousands of alumni who tune the game in at home and for the rivalry itself. Each November, HDNet exposes many new people across the nation to our two fine colleges and this great tradition."

[Download Video: "1890 Monon Memory" - 4409kb]
Says Jim Amidon, director of public affairs at Wabash, "We are thrilled that we have in place another three-year deal with HDNet, which will allow the entire nation to witness what those of us from Wabash and DePauw have long known -- that the Monon Bell Classic is the finest rivalry game in all of sports. We're especially grateful to our HDNet partners, who have recognized the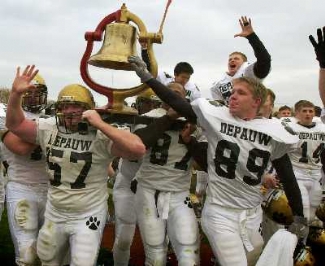 greatness of the rivalry and helped us celebrate it."

[Download Video: "2007 Monon Memory" - 7808kb]
Launched in 2001 by Cuban and Philip Garvin, HDNet is the exclusive, high definition home for popular, original programming. HDNet and HDNet Movies are available on AT&T, Charter Communications, Comcast, DirecTV, DISH Network, Insight, and Verizon FiOS. Visit HDNet online.
Nearly 2,000 enthusiastic alumni and friends attended a record 66 Monon Bell telecast parties across the nation in November 2009. Plans are in the works for this year's parties, and hosts are needed in some cities. For details, click here or contact Dana Coffin Moell '95, assistant director of alumni relations, at (877) 658-2586 or danamoell@depauw.edu.

[Download Video: "1955 Monon Memory" - 6739kb]
DVDs of 2001-09 Monon Bell Classics are still available in limited quantities. Learn more, and order online, here.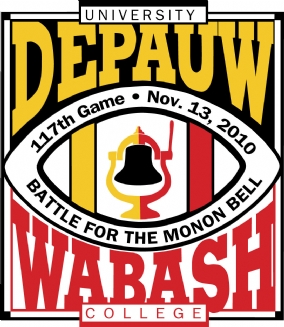 The Monon Bell was voted Indiana's best college sports rivalry by fans of ESPN, and is noted in the DVD collection, ESPNU Honor Roll: The Best of College Football, as one of the nation's best annual clashes. Past games have been televised on ESPN2 and ABC, and the Monon Bell was featured on CBS' Sunday Morning and has twice been spotlighted in Sports Illustrated. The annual DePauw-Wabash clash is also detailed in Rites of Autumn: The Story of College Football, a book by Richard Whittingham.

[Download Video: "2000 Monon Memory" - 3239kb]
Access DePauw's Monon Bell Web page here.
A complete roster of "Monon Memories" -- video highlights of past classics -- can be found here.
Back