DePauw Benefactor and Trustee Edward Rector Dies at Age 62
August 1, 1925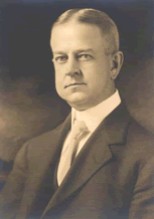 August 1, 1925, Greencastle, Ind. — Edward Rector, a benefactor and friend of DePauw who served as a member of the University's Board of Trustees, died today at his Chicago home. He was 62 years old.
In 1919, announcement was made of Rector's plan to give some $2 million to make it possible for young men outstanding in character and scholarship to attend DePauw University. The proposed plan was adopted by the board and put into operation in September of that year, with 47 Rector Scholars in attendance.
The book DePauw: A Pictorial History notes, "His gifts to the University, as he explained to his fellow trustees, were 'investments in humanity, in the men and women who are to carry out the work of our country and of the world when you and I are gone.'"
As Mr. Rector, who was a patent attorney, stated, "When I
graduated from high school, nearly all my classmates went off to college and I felt very much abused but I did not have the means to accompany them. I always afterwards had a notion that if I ever had an opportunity to help some fellows go to college who were in a fix like I was at that time. Finally the opportunity seemed to present itself and the foundation was established."
Creation of the Rector Scholarship program marked Mr. Rector's sixth gift to the college. He first contributed to the fund which created Bowman Memorial Gymnasium.
"The Rector Scholarships will continue, but our loss will be tremendous," states DePauw President L.H. Murlin. "It was Mr. Rector's personal interest in our work, and in our students, that counted greatly. His influence was one of the greatest and most inspiring factors of our work at DePauw. The college, and I, personally, shall miss him greatly."
Back