NYU Class Co-Taught by CEO Tim Collins '78 Noted in Financial Times of London
January 12, 2011
January 12, 2011, Greencastle, Ind. — "The study of culture -- once the academic purview of anthropology and sociology -- is capturing a more central role at New York University Stern School of Business in a new course that aims to prepare MBA candidates for global careers," begins a story in London's Financial Times. "The course strives to give students an understanding of the impact that local customs and culture have on business," writes Rebecca Knight, who notes that the class was co-taught by Tim Collins, chief executive of Ripplewood Holdings and 1978 graduate of DePauw University, and CNBC's Maria Bartiromo.
Visiting lecturers included Paul Volcker, an economic adviser to President Obama and former chair of the Federal Reserve, who has also visited DePauw on several occasions, including for an Ubben Lecture on October 8, 2003 and a DePauw Discourse 2005 address.
"In another session, the class examined the turnround of Japan's Long Term Credit Bank, which started when a consortium of western investors -- led by Ripplewood Capital Partners -- purchased LTCB from the government. They installed new management and re-christened it Shinsei Bank with a mandate to branch out from long-term commercial lending. A standard M&A course would have examined finding a market niche, says Prof. [Bruce] Buchanan, but the Stern class looked at the psychological trauma the bankers suffered when the bank was taken over."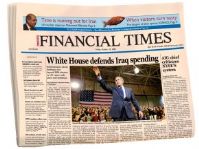 You'll find the article at the Financial Times' website.
In November 2008, Tim Collins was honored at The HealthCare Chaplaincy of Manhattan's annual "Wholeness of Life" benefit and awards dinner.

[Download Video: "Timothy C. Collins '78" - 976kb] "From DePauw I received many things: a first-rate education with genuine analytical rigor," Collins said as he received an honorary Doctor of Humane Letters degree from his alma mater on May 22, 2005. "I left DePauw with an enduring hunger for truth. Studying philosophy here with great and caring teachers was an innoculation against intellectual complacency."
Back