512 Students Receive DePauw Diplomas in Rain-Interrupted Commencement Exercises
May 22, 2011
Also:

[Download Audio: "Complete Address by Christine Walker '11" - 4716kb]; YouTube Video; Tim Solso '69 Addresses Class of 2011; Three Honorary Degrees Awarded; Photo Galleries 1, 2, 3; Order Your Commencement DVD
May 22, 2011, Greencastle, Ind. —

[Download Video: "The Class of 2011" - 661kb] "I have no doubt that our class has great things in store, but only if we do not forget all of the lessons we have taken from the past," senior Christine Walker told fellow members of DePauw University's Class of 2011 this afternoon. "We have all of the direction we need as long as we are willing to trust what we have already been through."
Walker is the 2011 recipient of the Walker Cup, which recognizes the senior student judged to have contributed the most to the University during his or her four-year college career. The Walker Cup winner has the honor of speaking to the graduating class.
A total of 512 students received degrees today during DePauw's 172nd commencement, which began outdoors in Holton Memorial Quadrangle , with the scheduled 1 p.m. starting time delayed a half-hour by threatening weather. Stormy weather finally did arrive shortly after the process of distributing the diplomas began. The senior class moved to Meharry Hall in historic East College, where the remaining diplomas were handed
out as heavy rain began to fall outside.

[Download Video: "Our Generation" - 1509kb] "We are a generation that until a few years ago had never known a president that did not have the last name of Bush or Clinton," Walker said. "We are the text messaging generation. We are the first generation to be plugged in completely, in which no area of information or the world is off limits. We are the generation for whom, as author Thomas Friedman states, the world is flat. As we grew up we were told that we can retrieve information faster, travel further, and dream bigger than any who came before us. And then we came to DePauw."
She recalled late nights of studying, of the lifelong friendships that were forged, and of memorable moments like the 47-yard field goal that won the 2007 Monon Bell Classic during their first year on campus.

[Download Video: "Looking Ahead, Embracing the Past" - 2214kb] "We will always be teenagers of the millennium," Walker noted. "We will always be members of DePauw. None of this should end here today. Your DePauw experience should not end here today. Everything you have learned, everything
you have been been challenged to do, should continue far beyond this moment. We have all come from very different places and we are heading different directions. We shared these four years and all of the lessons they taught us. So as we head forward, don't forget to look over your shoulder as well. When you come to a life-changing crossroad, such as today, look behind you because that is where your map may lie."
The principal address at the 2011 commencement was delivered by Theodore M. "Tim" Solso, chairman and chief executive officer of Cummins Inc. and 1969 graduate of DePauw University. Solso and two other distinguished individuals -- Cassel Grubb, professor emeritus of music at DePauw and former director of the DePauw University School of Music; and Ian Morris, Jean and Rebecca Willard Professor of Classics and professor of history at Stanford University, received honorary doctoral degrees. (at right: the graduates in Meharry Hall, after the proceedings were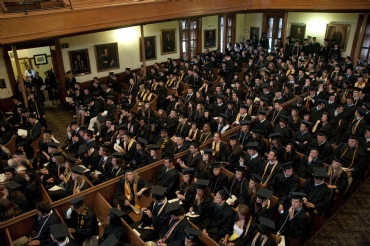 forced indoors by stormy weather)
For the tenth year in a row, DePauw is producing a limited edition commemorative DVD. The disc, which is professionally replicated, will include footage of graduates receiving their DePauw diplomas as well as a range of bonus materials. 2011 graduates will each receive a free copy of the DVD this year, to make up for the disruption to the commencement ceremony caused by the threat of dangerous weather. Other orders are now being accepted at $19.95 for the first disc; additional DVDs sent to the same address are $8 each (7% sales tax will be added to Indiana orders). An online order form is available here; you can learn more about the disc in this article.
For more information on DePauw's 172nd commencement, click here.
Back