Green Guest Artist Series Welcomes Grammy-Winning Roomful of Teeth Saturday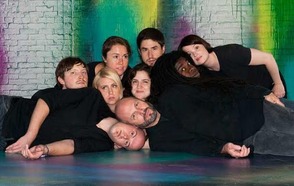 August 31, 2014
DePauw University's Green Guest Artist Concert Series welcomes the Grammy Award-winning "vocal project" Roomful of Teeth, Saturday, September 6, at 7:30 p.m. The performance will take place in Kresge Auditorium, located within the Judson and Joyce Green Center for the Performing Arts.
Hailed by NPR as "eight voices gleefully filling up a huge amount of space" and an ensemble whose "singing is fiercely beautiful and bravely, utterly exposed," the group was established in 2009 at Williams College by composer and conductor Brad Wells.
Five short years later, Roomful of Teeth was awarded a Grammy for its self-titled debut album that features the innovative Pulitzer Prize-winning Partita for 8 Voices composed by ensemble member Caroline Shaw, the youngest composer ever to win a Pulitzer. Critic Justin Davidson, writing for New York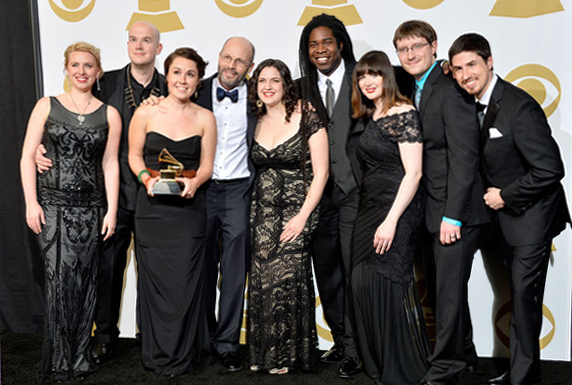 magazine, observed of Shaw, whose Partita reached #1 on Amazon and iTunes Classical charts, "She has discovered a lode of the rarest commodity in contemporary music: joy."
Although each member of the ensemble is classically trained -- many holding master's or doctoral degrees and multiple jobs as soloists, composers, conductors and teachers -- the group is known for its experimental approach to vocal music. Annual residencies at the Massachusetts Museum of Contemporary Art have also provided them with opportunities to study traditions such as Tuvan throat singing, belting, yodeling and Georgian chant.
"What makes Roomful of Teeth so appealing is its willingness to add colorful, unconventional singing techniques to the classical tradition," says DePauw vocal performance major Dana Hart '16. "While the ensemble certainly demonstrates its classical foundation, the singers are not afraid to bring an
experimental flair to their interpretations."
For Saturday's concert, the group will present an array of repertoire that mines this expressive potential of the human voice. A single song may include classical and jazz styles as well as speech and yodeling, yet the transitions between singing styles are smooth and ethereal. When listening to the ensemble one imagines a fine wine -- eloquent and stimulating.
This non-conformist approach has inspired inventive commissions from several contemporaries, in addition to Shaw, including Judd Greenstein, William Brittelle and Sarah Kirkland Snider, all from the not-for-profit record label New Amsterdam Records, and Merrill Garbus of the tUnE-yArDs music project. These collaborations have resulted in a distinctive sound not identifiable with any other vocal group.
The DePauw concert was listed among the "Can't-miss classical music performances of 2014-15" by the Indianapolis Star.
In addition to the Green Series concert, Roomful of Teeth will give a master class with the DePauw Chamber Singers on Sunday, September 7 at 1 p.m. in the Green Center's Thompson Recital Hall.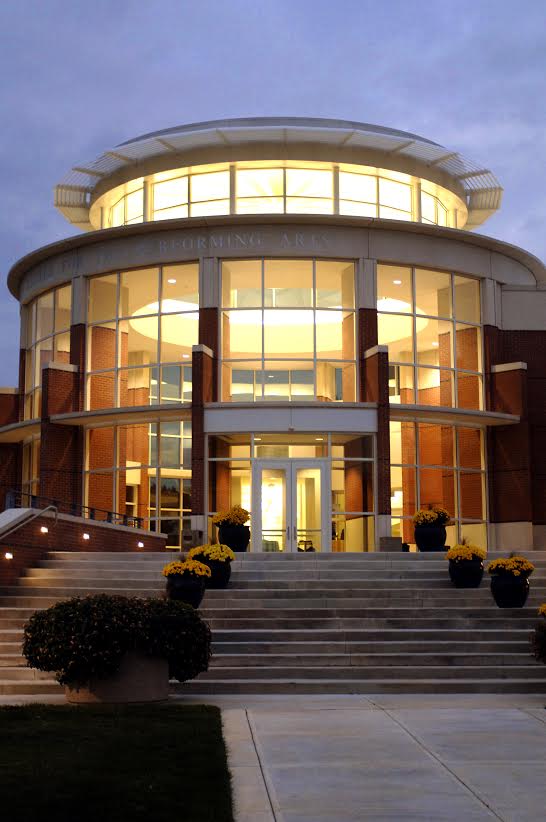 This event is free and open to the public.
General admission tickets for Saturday's performance are $10 in advance and $15 if purchased the day of the event. Tickets for all students, seniors over 65, and children twelve years and younger are free.
Also available for sale, through Sept. 5, is the popular all-access season pass, which provides admission to all Green Series and School of Music concerts throughout the year. Prices are $75 each or two passes for $100.
For ticket information and purchases, please visit the Green Center box office or www.brownpapertickets.com. The box office is open Monday thru Thursday 12-4 p.m. and 6-8 p.m. and Friday 12-4 p.m.
Back