Vernon Jordan '57 Receives The American Lawyer's Lifetime Achievement Award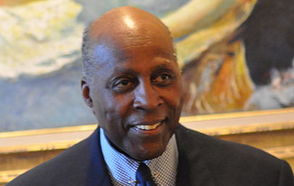 August 28, 2014
Vernon E. Jordan Jr., a 1957 graduate of DePauw University, is a recipient of The American Lawyer magazine's 2014 Lifetime Achievement Award. The awards recognize those with long and distinguished careers and a dedication to public service.
"Jordan's wide-ranging career includes civil rights lawyer, president and CEO of the National Urban League, corporate board member, confidante to former President Bill Clinton and currently senior counsel at Akin Gump Strauss Hauer & Feld, where the firm says he remains one of its most effective rainmakers," notes the publication.
"Honorees this year have had very different careers, but all extraordinary careers," says Kim Kleman, editor-in-chief of the The American Lawyer. "They're lions of the profession."
Read more here.
In June, Vernon Jordan was presented with the 2014 Hubert H. Humphrey Public Leadership Award by
the Humphrey School of Public Affairs at the University of Minnesota. (l-r: former Vice President Dan Quayle '69, DePauw President Brian W. Casey, and Vernon Jordan '57)
A political science major as an undergraduate, Jordan is a former member of DePauw's Board of Trustees. He has twice presented the commencement address at DePauw, in 1973 and 1993.
On November 18, 2011, Vernon Jordan introduced Clinton as the former president delivered DePauw's 25th anniversary Ubben Lecture. A summary of the event can be accessed here.
Back