Ashton Johnson Receives 2015 Walker Cup
April 27, 2015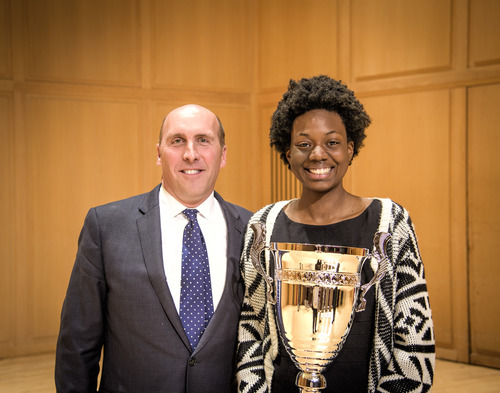 Ashton T. Johnson is the recipient of DePauw's Walker Cup, which is awarded to the senior who has contributed the most to the University community during his or her four years on campus. Johnson was presented with the award by President Brian W. Casey at tonight's Academic Awards Convocation, which took place in the Green Center for the Performing Arts' Kresge Auditorium.
Johnson, who hails from Springfield, Maryland, is a sociology major and education studies minor. Her campus activities have included serving as a presidential ambassador, as an entertainment chair for Union Board, as a vice president of Exalt Gospel Choir, and volunteered with College Mentors for Kids and as a tutor at Mt. Zion Baptist Church. She wrote a column for The DePauw, "Excuse Me, But Your Privilege is in Our Way," which was later distributed on the Huffington Post. The piece "brought awareness to experiences of students and faculty that are not typically discussed openly," noted President Casey.
In the wake of the unrest in Ferguson, Missouri, Johnson organized events and discussions on campus to discuss and explore issues related to police, race and the state of America.
Following graduation, Ashton Johnson will serve in the Teach For America corps in New York City.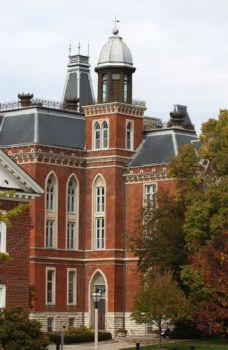 "The word that captures Ashton for me is 'intelligence'," stated Dr. Casey. "But it's not simply sheer raw intellectual power that defines Ashton, though she has that characteristic. Ashton Johnson, from what we have seen in her work on this campus, has one of the most elegant intellects I've ever seen in a college student. She has, to borrow from a recent biography, a beautiful mind."
The president added, "Ashton always gets to the truth, to the elegant truth, with words that reveal and amaze." He says that Johnson has the potential to be "a powerful, beautiful force of mind and truth that will surprise us, change us, and make us better. We saw that on the campus for the past two years. Once given an even bigger stage her message will become even more powerful, and more will see what this woman from DePauw can really do."
Courtney E. Cosby and Dakota "Cody" N. Watson were the other finalists for the Walker Cup.
As a result of winning the award, Johnson will speak on behalf of the senior class at DePauw's 176th annual commencement on Sunday, May 17, at 10:30 a.m. in Holton Memorial Quadrangle.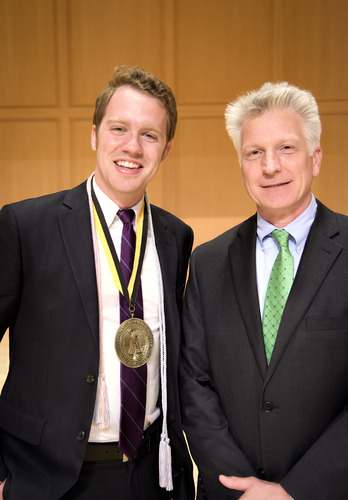 Also at tonight's convocation, Stephen C. Dobbs was awarded the Ferid Murad Medal, awarded to the senior who has had the most significant scholarly or artistic achievements during his or her time at DePauw. (at right: Dobbs with Larry Stimpert, vice president for academic affairs)
A geology major and mathematics minor from Mooresville, Indiana, Dobbs has joined Professor Tim Cope to conduct geological research in northeast China and has devoted his undergraduate career to his research in an attempt to understand the complex history of the region. Dobbs has also served as a geosciences lab technician under Professor Jim Mills and produced research which culminated into two publications that he authored and presented at the Geological Society of America's 2012 & 2013 annual meetings.
He has received the Ernest Rock Smith Award in 2013 and 2014 for academic achievement in the geosciences as well as DePauw's Paul S. Jarrett Endowed Merit Scholarship for those two years. Initiated into Phi Beta Kappa, Dobbs has been recognized twice by the Barry M. Goldwater Scholarship Foundation -- the most sought after academic achievement scholarship in the U.S. for undergraduate science students -- with honorable mentions in 2013 and 2014.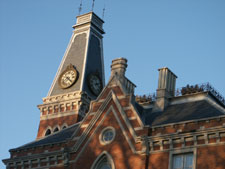 The other finalists for the Murad Medal -- named for a 1958 DePauw graduate and Nobel Prize winner -- were Hang D. La and Madeline F. Perry.
A complete list of tonight's award recipients is available here.
Back