Prof. Clinton Gass, Who Taught Mathematics for 32 Years, Dies at Age 95
July 28, 2015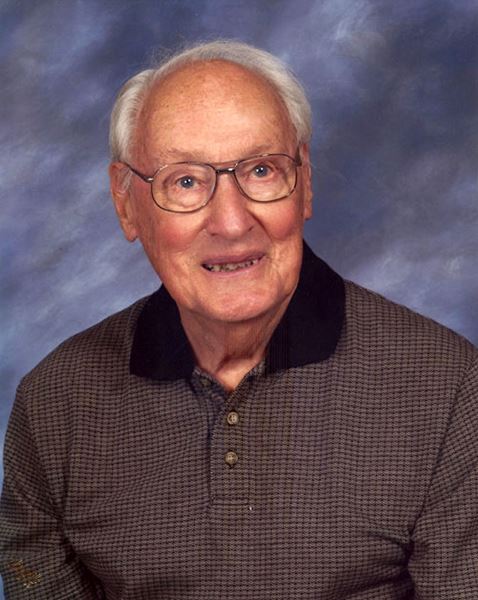 Clinton Burke Gass, professor emeritus of mathematics at DePauw University, where he taught for more than three decades, died last night (July 27) in Logan, Utah. He was 95 years old.
Born January 9, 1920 on a farm near Lake Wilson, Minnesota, as a youngster Clint Gass was honored by the Boy Scouts for saving a life in 1932. He received his A.B., magna cum laude, from Gustavus Adolphus College in 1941, then earned the M.A. and Ph.D. from the University of Nebraska in 1943 and 1954, respectively.
Dr. Gass served as an instructor in mathematics at the University of Nebraska (1942-43), an associate professor of mathematics at Nebraska Wesleyan University (1943-44), and then completed two years in the U.S. Army, being assigned to the Atomic Bomb Project (theoretical physics) at Los Alamos, New Mexico, where he worked as part of a theoretical physics unit on the top secret Manhattan Project, helping to build the atomic bomb.
Gass completed his doctorate after being discharged from the army, and taught at Nebraska Wesleyan University until 1954,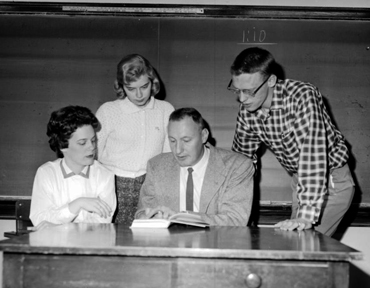 when he took a position at DePauw, where he taught until his retirement in 1986 as John T. and Margaret Deal Professor of Mathematics.
Gass served as chair of the mathematics department from 1960 to 1984. In 1972, he and his wife, Myrtle, along with Prof. Forst Fuller, led DePauw's first Winter Term in Mission. The team erected a church hall on the island of Anguilla while Myrtle volunteered as a nurse at the island hospital. Professor Gass led Winter Term in Mission projects in Central America and the Caribbean for the following four years. (photo: Prof. Gass explaining a mathematical concept in 1960)
In 1968 and 1969 he directed and taught in National Science Foundation supported Summer Institutes for teachers held in Munich, Germany, and from 1972 to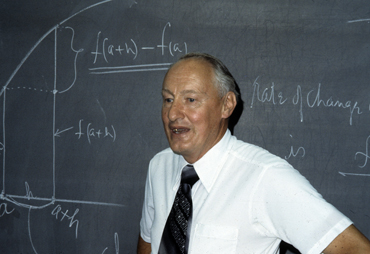 1994 he lectured in Germany, Italy, Spain and England on behalf of Challenge, a summer program supported by the U.S. Department of Defense, which Gass co-founded with DePauw faculty colleague Paul Kissinger. He also served as an overseas consultant in mathematics for the Defense Department. (at right: the professor in 1978)
Dr. Gass is co-author of College Algebra, which was first published in 1956 and revised in 1963 as College Algebra and the Basic Set Theory. He served as chair of both the Nebraska and Indiana sections of the Mathematical Association of America. Other service includes chairing the Indiana state Mathematics Advisory Committee, and Gass has lectured widely on behalf of the Indiana Academy of Sciences.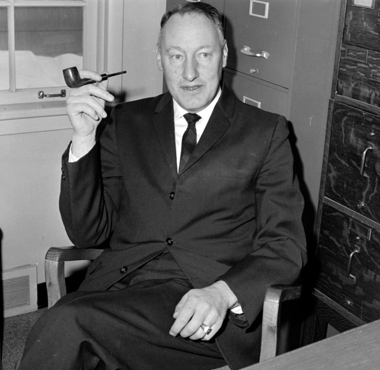 In 1968, the professor received a Distinguished Alumni Citation from his undergraduate alma mater, Gustavus Adolphus College.
Throughout his life, Clint Gass was active in the Masons, Shriners, Rotary Club, Gobin Methodist Church, Boy Scouts and many other organizations in the Greencastle community. A photography hobbyist, the professor took a photo of each and every class of students he taught; many of his vintage images of DePauw reside in the University's Archives. As a retiree, Gass spent much of his time building and repairing clocks, which was noted by NBC's Today in a May 1986 segment (embedded below) and by Modern Maturity magazine in December 1986.
Gass had more than 100 clocks running in his Greencastle home at one time.
"I'm a tinkerer from way back, I've always enjoyed taking things apart and trying to fix 'em, trying to put them back together," the professor told the popular morning program as he faced retirement. "I think it's important when you retire to have something you really are interested in doing. I have seen some of my friends who have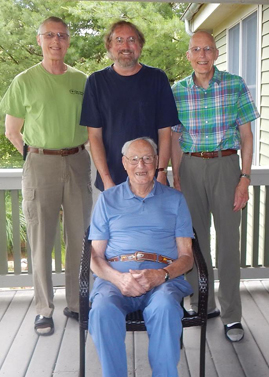 retired without anything special, and time drags awfully heavy for them." (at right: Clint Gass in a Father's Day photo with his sons, l-r, Fred, Glenn and Ken; June 22, 2015)
At his retirement party 29 years ago, fellow faculty members presented Gass with two large scrapbooks filled with letters and photos from about 200 former students, who included former astronaut Joe Allen '59. "I'm going to read and re-read every one of them this summer," the professor said at the time.
Myrtle Gass passed away in 1999. Clint Gass's survivors include his partner for over a decade, Betty Slack.
A community memorial service will be held at Gobin Memorial United Methodist Church on Saturday, August 22, with light refreshments and social time with family beginning at 1 p.m., a celebratory service at two o'clock, and graveside commitment performed by the Masons of Temple Lodge #47 to follow at Forest Hill Cemetery.
Back