Senior Craig Carter is Awarded DePauw's 2016 Walker Cup
April 25, 2016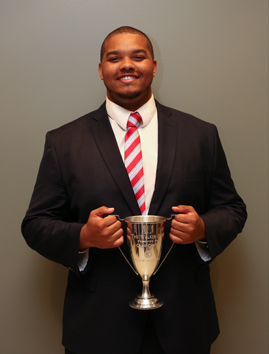 Craig R. Carter is the 2016 recipient of DePauw's Walker Cup, which is awarded to the senior who has contributed the most to the University community during his or her four years on campus. Carter, who is president of DePauw's student body, was presented the award by President-elect D. Mark McCoy at tonight's Academic Awards Convocation, which took place in the Green Center for the Performing Arts' Kresge Auditorium.
A biology major who hails from Chicago, Carter has served as president of Men of Excellence and has worked to enhance cross-cultural conversations across the campus, serving as one of the organizers of this spring's DePauw Dialogue. Through his involvement in student government, Carter reactivated a program through which DePauw students mentor Greencastle youth. He's also served as a Presidential Ambassador and resident assistant, and played football his freshman year.
Carter, who hopes to continue his studies and earn a Ph.D. in biology, thanked several of his classmates by name, stating, "If it wasn't for them, who forced me to go to study tables and understand the importance of being a black man on a college campus, I wouldn't be here."
Sheridan L. Schulte was awarded the Ferid Murad Medal, which has been given since 2014 to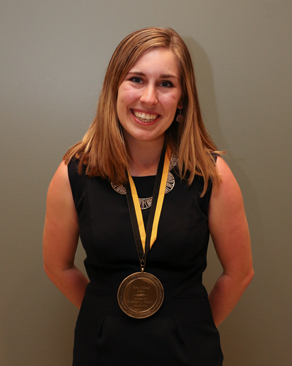 the senior who has had the most significant scholarly or artistic achievements during his or her time at DePauw.
Schulte, a biochemistry and history double major with minors in French and European studies, hails from Houston, Texas. She has served as president of DePauw's Timmy Global Health chapter the past two years and has worked with Professor Sharon Crary in the biochemistry department to create a diagnostic test for the tropical disease, leishmaniasis. Schulte hopes to become an obstetrician and gynecologist in service to a global health nonprofit organization with a focus on women's health and empowerment.
Dr. Murad, a 1958 graduate of DePauw, won the Nobel Prize in Medicine in 1998 and is a professor at George Washington University's School of Medicine and Health Sciences.
A listing of all of the awards presented at the convocation is available here.
Back