Media Need to be Aggressive, Yet Fair in Coverage of President: Prof. Jeff McCall '76
August 9, 2017

"The war between the White House and the press is escalating 200 days into the administration, with President Trump launching daily attacks on the press and an emboldened news media becoming increasingly transparent about its hostility towards the president,' writes Jonathan Easley for The Hill. "The White House has struggled to hit on a consistent communications strategy or a reasonable way of dealing with the combative press corps."
"I am all for the press reporting aggressively on any administration," said Jeff McCall, a professor of media studies at DePauw University. "I do think, however, that the coverage should be professional in content and tone. Reporters want to cover Trump, however, with emotion-laden wording, armchair analysis, and sometimes flimsy sourcing, and that leads to a perception by Trump followers that the media is out to demean Trump."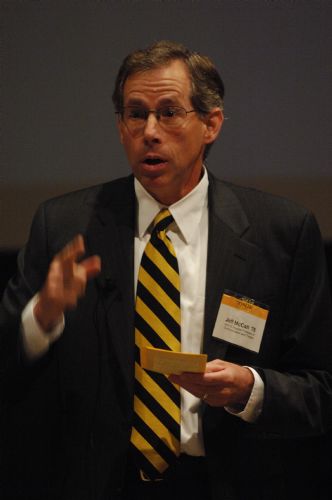 Conversely, some of Trump's allies wish the president would let the coverage roll off his back.
Access the story at the website of Capitol Hill's newspaper.
Dr. McCall, author of the book Viewer Discretion Advised: Taking Control of Mass Media Influences, is a former journalist and 1976 graduate of DePauw. As an undergraduate he was a Rector Scholar and communication major and worked on student radio station WGRE, which he now serves as faculty adviser. McCall earned a master's degree from the University of Illinois and a Ph.D. from the University of Missouri.
Frequently cited in stories covering media matters, Jeff McCall talked last week with the Press-Enterprise of Riverside, California about a congressman's move to block a constituent on Facebook. He also recently quoted in a Variety story on cable TV news and authored a column on the debate over White House press briefings.
Source: The Hill
Back