The Media Fellows Program
Highlights
Lydia R. Hayden '14
Lydia Hayden talks about her four years in the Media Fellows Program.
Read More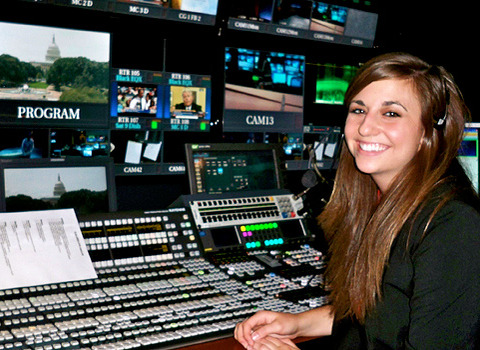 The Media Fellows Program
Combining classes with hands-on media experience, the Media Fellows Program features semester-long, off-campus internships and a robust speaker series. Recent internship locations include such sites as "The Today Show," "The Colbert Report," The White House, USATODAY and C-SPAN. These experiences encourage exploration of the theory and practice of media and give students insight into the evolving world of mass media. The program was developed for students who are planning a career in mass media, as well as those who need to know how the different media operate as an advantage in performing effectively in other careers.
Media Fellows use the Pulliam Center for Contemporary Media as a laboratory, gaining experience in radio and television production, plus newspaper and magazine publishing and multimedia for the web. Media Fellows confront ethical issues, learn about the business of media and gain a practical understanding about this evolving field.
During their junior year, Media Fellows also take advantage of a semester-long professional media internship which is shaped to meet the individual interests of students and bring them face-to-face with respected professionals at many premier print, marketing, governmental and broadcast media organizations all over the world.
Whether you want to become a media professional, or simply learn about how the media operates so that you can be more effective in your chosen profession, the Media Fellows Program at DePauw University can help you succeed!

Media Fellow Alumn Ben Solomon '10 talks about his time in the program and his work in the Middle East working for the New York Times