Prof. Dave Berque and Ryan Ritz '97 Elected to DyKnow's Advisory Board
February 24, 2007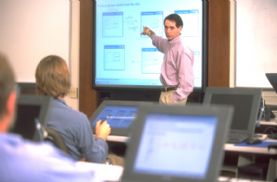 February 24, 2007, Greencastle, Ind. - Two members of the DePauw University community -- Dave Berque, professor and chair of computer science, and Ryan T. Ritz, a computer science teacher at Park Tudor School in Indianapolis and 1997 graduate of DePauw -- have been elected to DyKnow's advisory board, notes today's Indianapolis Star. The advisory board has a total of 6 members. Berque chairs the panel. (photo at left shows Berque in the classroom)
Dr. Berque's work at DePauw led to the development of pen-based technology that is now being used in classrooms around the country. The system, which is manufactured and marketed by DyKnow, received a United States patent in February 2006 which lists Berque as the inventor. The professor recently appeared on Indianapolis CBS affiliate WISH to discuss the technology and how it works. See a video featuring Dr. Berque here:

[Download Video: "Dave Berque - Professor of the Year" - 7427kb].
Ritz was featured in an article in the October 2005 issue of Edutopia that examined how technology is revolutionizing education. During his time at DePauw, Ritz researched pen-based computing and co-authored journal articles with Dr. Berque.
"DyKnow is extremely fortunate to have such an esteemed group of educators serving on its advisory board," says the company's president, Laura Small. "Hailing from many different backgrounds, these individuals' perspectives will influence the future strategy of our company and the direction of product development and training."
Read the Star announcement by clicking here.
Back