Prof. Ken Bode Examines "Pervasive Problem" of Drinking on College Campuses
September 2, 2005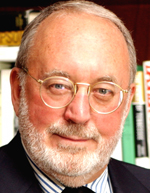 September 2, 2005, Greencastle, Ind. - "If you are a parent of one of the 2.3 million students beginning their first year of college this month, you should know that the greatest challenge your freshman faces may be outside the classroom," writes Ken Bode in the Indianapolis Star. The Eugene S. Pulliam Distinguished Visiting Professor of Journalism at DePauw University, Bode continues, "American college campuses are awash in beer and booze. False IDs, underage drinking and binge drinking are part of the nonacademic side of college life. It begins when the freshmen arrive. Suddenly there is newfound freedom. No more parental control, no curfew hours, men and women share dormitories, booze is easily available, no one is around to say no."
The professor asserts, "Schools have largely given up the old posture of 'in loco parentis,' but alcohol has become such a pervasive problem that many, including the one where I work, have taken aggressive initiatives. Before arriving at DePauw freshmen complete the on-line course AlcoholEdu.
Once on campus, alcohol education is part of orientation, and the university president personally addresses the class on problems of alcohol abuse." Still, Dr. Bode states, "the alcohol culture absorbs freshmen like a sponge."
The former network news correspondent for CNN and NBC concludes, "Indiana University was once ranked as the nation's No. 1 party school. During the Little 500 bike race, Bloomington police ran overtime shifts and scored 100 or more arrests for drunken driving, public intoxication, underage drinking. Their answer was to make the campus totally dry. IU now only ranks No. 6. What would work?"
Read the complete essay at the newspaper's Web site. Ken Bode's other recent columns can be accessed here, here, here, here, here, here, here, here, here, here, and here.
Learn more about the AlcoholEdu for College program in this previous story.
In March 2003, the University launched the Coalition for a Responsible Community, an effort that involved all DePauw constituents -- students, faculty, alumni and administrators (read more here). The group's work resulted in a community covenant for DePauw: a set of expectations for members of the University community: in essence, stating the expectations for those who choose to live in the DePauw community (read the covenant by clicking here). Additionally, The Genesis Group -- a coalition of 46 national and international fraternities and sororities dedicated to finding solutions to the persistent problem of binge drinking among college students -- selected DePauw University as one of two test sites for its Program For Change (read more here).
Source: Indianapolis Star
Back