Gen. Colin Powell Presents Lee Hamilton '52 with Eisenhower Medal
May 19, 2007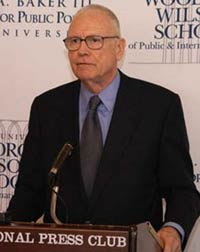 May 19, 2007, Greencastle, Ind. - As he accepted the Eisenhower Medal for exceptional leadership in Philadelphia Thursday night, Iraq Study Group co-chair and 1952 DePauw University graduate Lee H. Hamilton "was bracing in his remarks, focused on the premise that 'American diplomacy must address the world as it is, not as we wish it was,'" reports the Philadelphia Inquirer. "I'm not starry-eyed about what diplomacy can achieve," Hamilton stated. "I do not believe that talking is a panacea ... In a very tough world, diplomacy must be integrated with the other tools of American power, including military force."
The Eisenhower Medal is awarded annually by Eisenhower Fellowships to a business leader, statesman, or other public figure who has achieved widely-recognized advances toward President Dwight D. Eisenhower's vision of peace and productivity through person-to- person international dialogue. Past recipients include Presidents Gerald Ford and George H.W. Bush, Secretaries of State General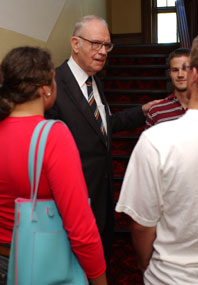 Colin Powell and Henry Kissinger, and Federal Reserve Board Chairman Alan Greenspan.
As he has done in appearances at his alma mater, Hamilton spoke of the need for nations that don't see eye-to-eye to keep communicating. "I've never been of the school of thought that says, when we have difficulties with a country, we're going to shut down our embassies and pull our ambassador out," asserted Hamilton, a former member of the U.S. House of Representatives and vice chair of the 9/11 Commission. "That's exactly the wrong thing to do."
The Eisenhower Medal was presented by Gen. Powell, USA (Ret.), the former secretary of state and current chairman of Eisenhower Fellowships, who "praised Hamilton," notes the newspaper. Hamilton now serves as president of the Woodrow Wilson International Center for Scholars.
Michael Matza writes, "Founded in 1953 as a tribute to President Dwight D. Eisenhower, the [Eisenhower Fellowships] program has provided opportunities for professional growth to more than 1,700 alumni, including 100 who have served at the cabinet level of their respective governments, and 250 international CEOs."
"Through his willingness to provide leadership and seek solutions through cooperation and dialogue, both as an elected official and as a private citizen, Lee Hamilton has demonstrated the qualities which Dwight Eisenhower sought to promote throughout his lifetime," said John S. Wolf, president of Eisenhower Fellowships. "As an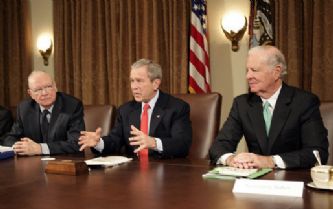 Eisenhower Fellowships Advisory Council member, Lee Hamilton has provided invaluable guidance, and we are grateful for his past and continuing support."
Read the complete story at the Inquirer's Web site, and access an announcement of the award by clicking here.
Lee Hamilton, who discussed his DePauw experience in a recent interview, was recently appointed to a bipartisan War Powers Commission. He is a frequent visitor to the DePauw campus, and in October 2006 discussed the Iraq war and other matters at DePauw Discourse 2006: Issues for America. Access a story -- including video and audio clips -- here.
Back