Vernon Jordan '57 is Honored with Du Bois Medal; Recalls "Loving Mentor"
December 9, 2009
December 9, 2009, Greencastle, Ind. — "She was a loving mentor to me," Vernon Jordan says of Margaret Buckner Young, author, educator and widow of noted civil rights leader Whitney M. Young Jr. Jordan, a 1957 graduate of DePauw University who succeeded Whitney Young as president of the National Urban League, shares his memories of Mrs. Young, who died Saturday, with the Denver Post.
"I called her Mama," says Jordan. "She always had sound advice, such as 'Think about this.'" The newspaper notes that Jordan will give the eulogy at Margaret Young's service on December 17.
Read more here.
Vernon E. Jordan Jr. was one of eight individuals honored Friday at the ninth annual Du Bois Medal ceremony, the highest honor awarded by the Harvard University Institute of Politics' W.E.B. Du Bois Institute. The medal is presented to individuals whose work has made a significant contribution to African and African-American culture.
"Vernon Jordan has been an extraordinary presence in American history for nearly half a century," Henry Louis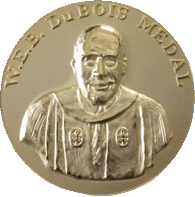 Gates Jr., director of the institute and Harvard's Alphonse Fletcher Jr. University Professor, said at the ceremony. "He has guided us all to a much better place."
The awards are the subject of this article.
Vernon Jordan also served as executive director of the United Negro College Fund, Inc., and as an adviser to Presidents Clinton and Carter. He currently is a director of Lazard Ltd. and Lazard Group and senior counsel at Akin Gump Strauss Hauer & Feld LLP. Jordan serves as an advisory member of DePauw's Board of Trustees and was appointed to the Iraq Study Group. He has authored Vernon Can Read!: A Memoir and Make It Plain: Standing Up and Speaking Out. His previous honors include receiving the Spingarn Medal, NAACP's highest honor for achievement, and the Trumpet Award.
Back