Prof. John Baughman '48 Receives Historic Preservation Award
December 13, 2009
December 13, 2009, Greencastle, Ind. — John J. Baughman, professor emeritus of history at DePauw and 1948 graduate of the University, has received the Washburn Chapter of the Daughters of the American Revolution's first-ever award for historic preservation. "Baughman has chronicled the history of the area in a book called Our Past, Their Present: Historical Essays on Putnam County, Indiana," reports the Banner-Graphic. "He served as the official Putnam County historian and has been very active in the preservation of DePauw Archives. He has also authored many articles and papers for the University and the Methodist Church in Indiana."
The DAR chapter's Jinsie Scott Bingham, a member of DePauw's Class of 1956, tells the newspaper, "This year, I want to start a tradition to honor some of the people in Putnam County who have actually done something to preserve our history. Most important of all, it is John Baughman who has chronicled our local history in a book. This book is indexed and there are many photos. And, best of all, it's about us." (top photo: Jinsie Bingham and John Baughman)
Dr. Baughman previously authored United Methodism in Indiana and co-authored DePauw University: A Pictorial History. The professor has also been published in the Journal of Modern History, French Historical Studies and Proceedings of the Indiana Academy of the Social Sciences.
The Banner-Graphic adds, "Baughman has served on numerous boards and committees in the county. He was the president of the Historic Preservation Society of Putnam County in 1977-78, on the board of directors of Kiwanis, district chairman for Putnam County and executive committee member for the Wabash Valley Council, Boy Scouts of America, and an executive committee member for the Putnam County Retired Service V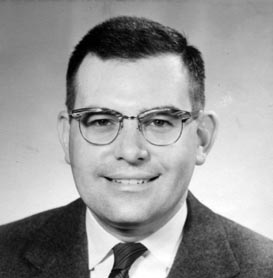 olunteer Program. In 1998, he received an Alumni Citation from the Board of Directors of the DePauw Alumni Association in recognition of outstanding University service and President's Award for 2000 from the Midwest Archives Conference. He served with the United States Army in Europe from 1943 to 1945 and received the Order of Purple Heart, Combat Infantry Badge."
Read more by clicking here.
In 2007, John Baughman provided the narration for a video documenting DePauw's centennial, which includes film footage from the 1937 event. Learn more and access clips in this story.
Back