Savon Jackson '15 to Teach in India with Fulbright Award
April 23, 2015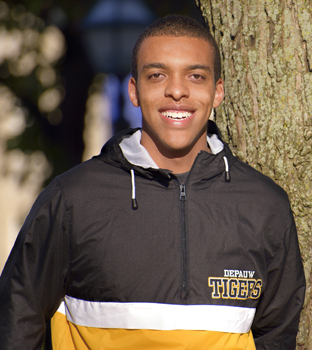 Savon M. Jackson, a senior at DePauw University, is the recipient of an English Teaching Assistantship from the Fulbright U.S. Student Program competition and will spend the 2015-16 academic year in India teaching English.
Jackson is the second DePauw senior to be announced as a 2015 Fulbright winner. Natalie M. Weilandt will use an English Teaching Assistant award to teach in Turkey during the upcoming year.
Sponsored by the U.S. Department of State and established in 1946, the Fulbright U.S. Student Program competition aims to increase mutual understanding among nations through educational and cultural exchange while serving as a catalyst for long-term leadership development.
A Posse Scholar and a Bonner Scholar, Savon Jackson is a religious studies major at DePauw. A first generation college student from New York City, he spent the Spring 2014 semester studying in New Dehli, India. He's also served as a community projects intern for the United Way of Putnam County.
"Returning to India as an ETA will allow for both my students and I to bridge the gap between our cultures as well as promote global citizenship," he wrote in his Fulbright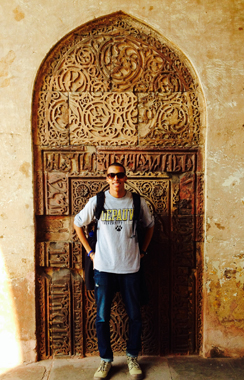 application. "Outside of the classroom I would like to volunteer with a local non-governmental organization that deals with hunger relief. During my five months spent studying abroad in India, I spent four months volunteering at Bangla Sahib Sikh Gurudwara in New Delhi as a food maker and distributor. Through this experience I began to understand the importance of hunger relief in relation to sustaining a working and effective community."
The senior noted, "For followers of the Sikh faith, Seva reflects notions of selfless service to others regardless of class, caste, race or religion. Prior to coming to India, my understanding of service was based upon my time as a Bonner Scholar, a nationally recognized community service based organization that supports, enriches and empowers communities. Through Bonner, I have been able to engage myself in my community through participating and coordinating different acts of service in efforts to alleviate issues that affect my community. As a recipient of the Benjamin A. Gilman Scholarship, while in India, I did research and film work focusing on the role of caste within modern day India. I incorporated Seva within my film through observing the dualities of caste inside and outside the walls of the Gurudwara. On campus, I have shared my film with my peers as a means to promote international understanding of other cultures, as well as to support global citizenship."
Jackson concluded, "My short yet fruitful time in India sparked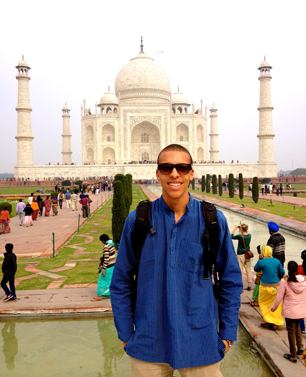 an urge to return. Becoming an ETA in India will provide a platform through which I can serve as an international ambassador to create dialogues of cultural exchange with both my students and community. These efforts will prove crucial to my pursuit of a master's degree in international development in hopes of one day working for an international NGO or the U.S. State Department."
The United States government's flagship international exchange program, the Fulbright Program is designed to increase mutual understanding between the people of the U.S. and the people of other countries. The Fulbright Program provides participants -- chosen for their academic merit and leadership potential -- with the opportunity to study, teach and conduct research, It operates in more than 155 countries worldwide and has provided approximately 325,000 participants with the opportunity to study, teach or conduct research in each others' countries and exchange ideas. Approximately 8,000 grants are awarded annually.
The Fulbright Program was established by the U.S. Congress in 1946 under legislation introduced by the late Senator J. William Fulbright of Arkansas. It is sponsored by the U.S. Department of State's Bureau of Educational and Cultural Affairs , which works with private non-profit organizations in the United States and with U.S. embassies and binational Fulbright Commissions abroad to administer the Program. Policy guidelines are established by the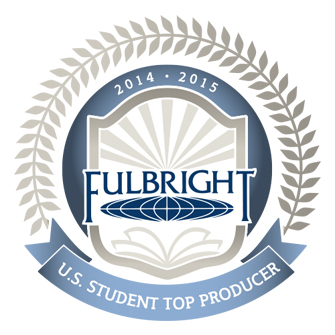 presidentially-appointed J. William Fulbright Foreign Scholarship Board, which also selects the recipients of Fulbright awards.
DePauw University is listed among the "Top Producers of Fulbright Awards for U.S. Students, 2014-15" in the Chronicle of Higher Education. DePauw was also cited as one of the USA's top producers of Fulbright Fellows in the publication's 2013, 2012, 2011, 2009, 2008, 2007 and 2006 listings.
See the names of DePauw's Fulbright recipients here or visit the University's Fulbright page.
DePauw students and alumni who are interested in applying for Fulbright Awards may contact Humberto Barreto, Elizabeth P. Allen Distinguished University Professor and professor of economics and management, or Kate Knaul, assistant dean of experiential learning and director of national fellowships and awards.
Back